Today, next-gen e-commerce personalization is the topmost priority of every customer while they shop. A practical personalization approach can help you achieve that.
Welcome to the new era of e-commerce, where personalized experiences are the key to unlocking customer satisfaction. For years, businesses have pursued a seamless, cross-channel experience that adapts to real-time individual needs. 
But why is there so much emphasis on providing a personalized experience to each customer?
As per a study conducted by McKinsey in 2021, customers are willing to pay more for brands offering customized or personalized services.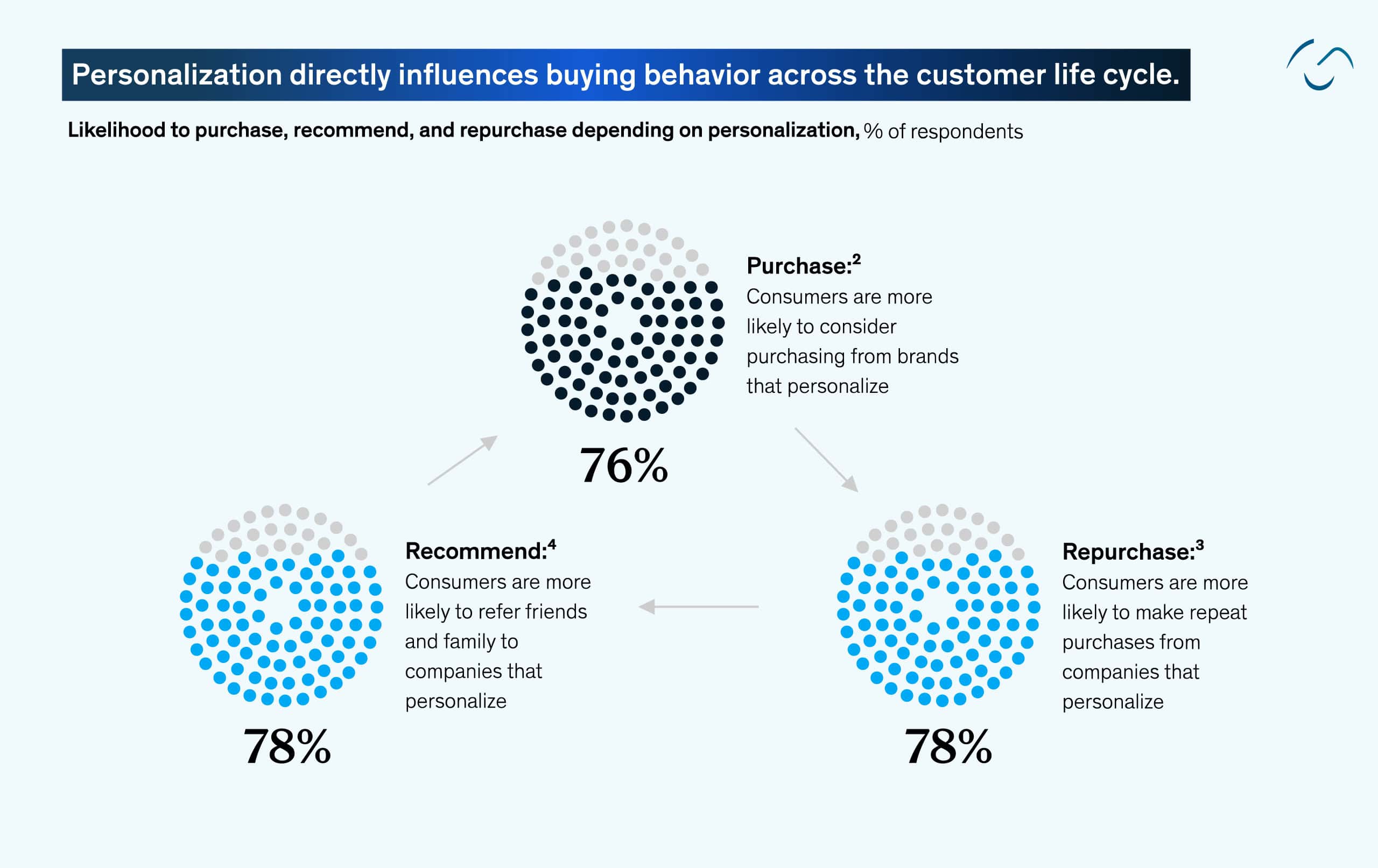 The good news? We now have the technologies to make it happen. 
The bad news? With a flood of options offering varying levels of personalization, designing the perfect user experience can feel overwhelming. 
But fear not! Our expert team is here to guide you. Let's navigate this exciting landscape together and create tailored experiences that leave a lasting impact. Let's redefine e-commerce with high-level personalization.
What do you mean by
E-commerce Personalization?
E-commerce personalization is tailoring the online shopping experience to meet individual customers' unique needs, preferences, and goals. It goes beyond a one-size-fits-all approach and aims to create a highly personalized and engaging experience for each shopper.
To elevate the customer shopping experience, personalization is the key to the success of every business. This is why marketers explicitly emphasize implementing customized experiences for their customers.
At its core, e-commerce personalization involves leveraging customer data, advanced technologies, and analytics to deliver relevant content, recommendations, and real-time offers across various channels. By understanding customer behavior, purchase history, demographics, and preferences, businesses can customize product displays, website layouts, marketing messages, and more to cater to customers' interests and desires.
Some stats that will justify the adoption of personalization.
Personalized experiences make a significant impact! 
Let's unlock the full potential of personalization together!
Benefits of E-commerce Personalization
The increasing love for personalization is the main reason why marketers are opting for it. But that's not it. Personalization brings a ton of benefits to the eCommerce industry that we are going to explain.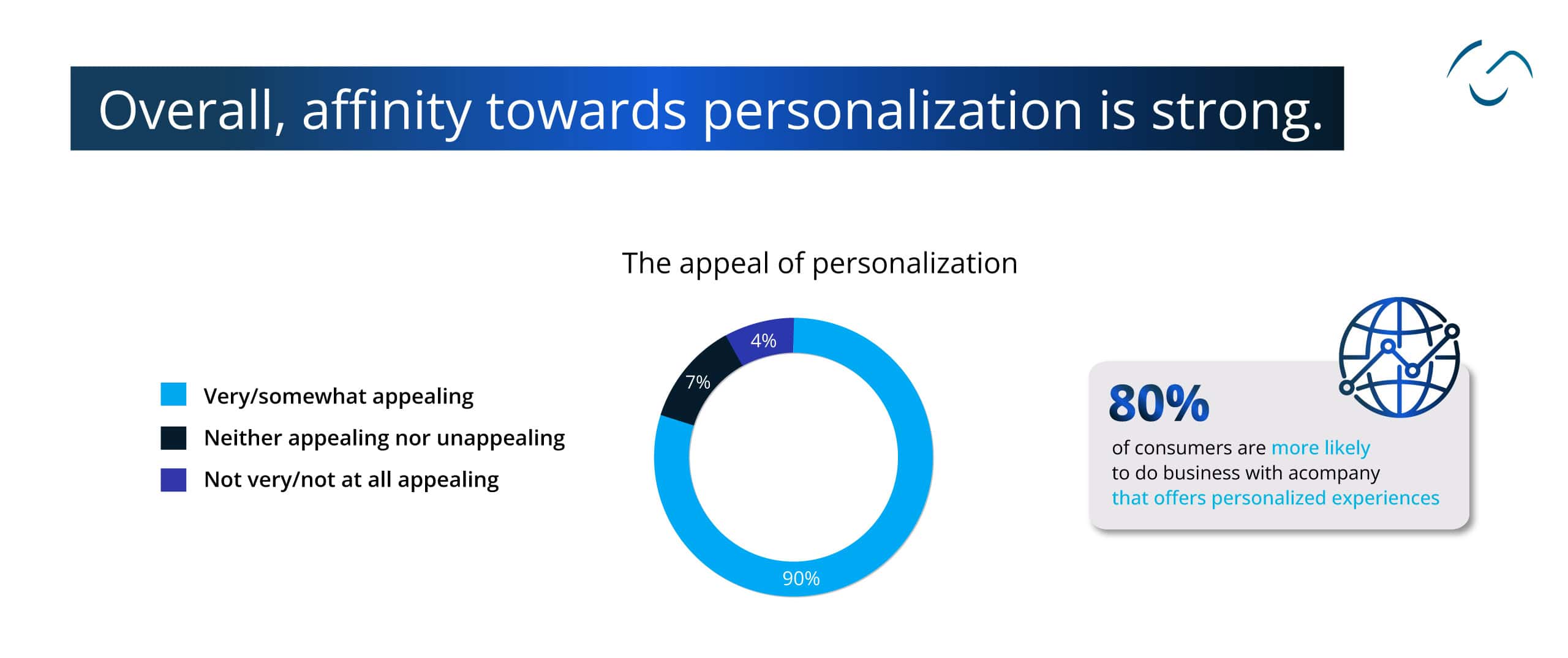 Here are the top advantages of personalization in eCommerce.
Increased Sales and Conversion Rates
As per a study, including targeted content for your services will bring around a 20 percent increase in sales and better opportunities. Personalization helps your business to target leads and convert them successfully. This means that through personalization, you are helping your customers to go through the services efficiently and find the right services they are looking for.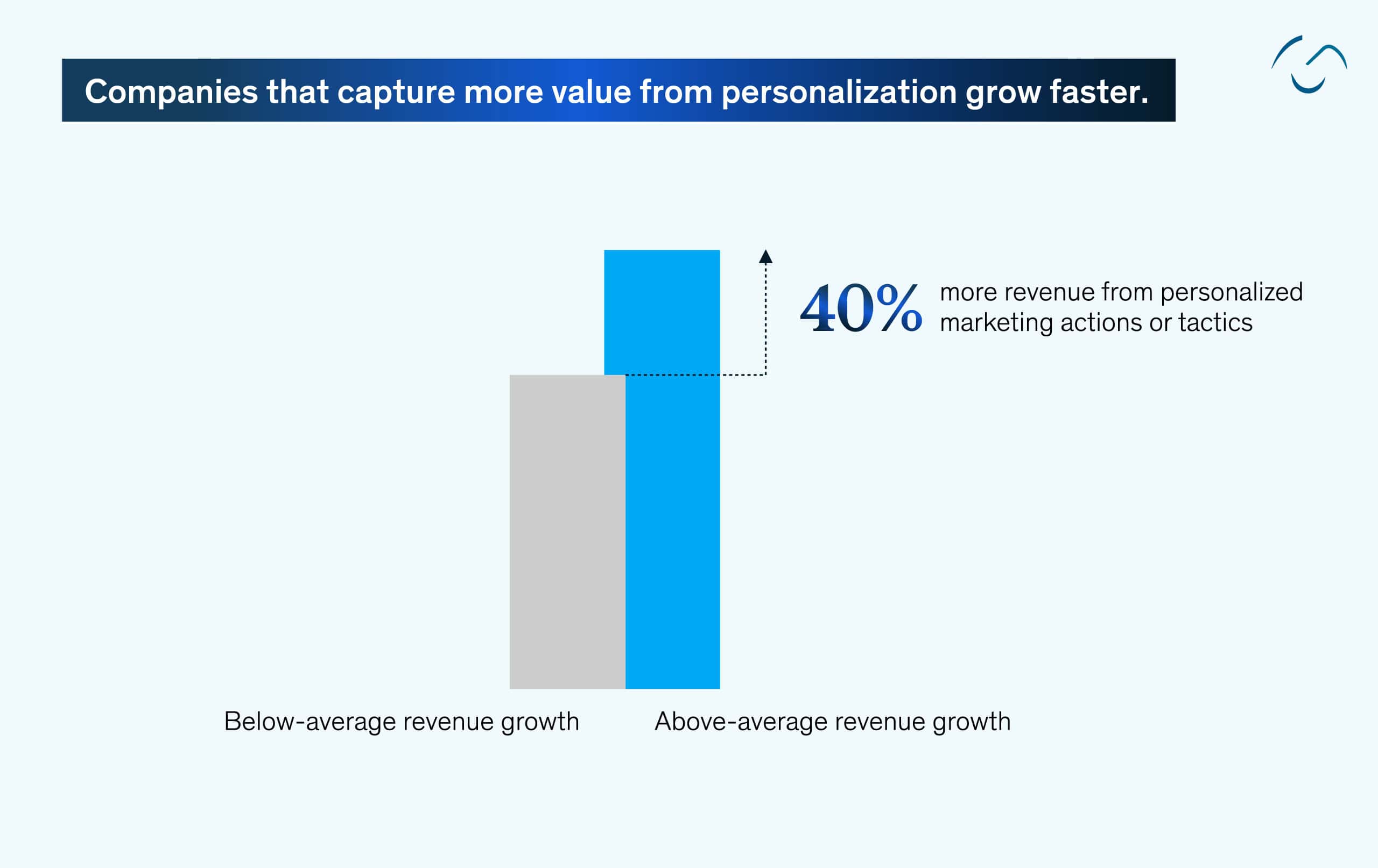 For example, if you curate the content of your landing page after understanding the customer's preference, it will bring more leads, resulting in increased engagement and conversion. 
That's what you exactly want from your customers.
Enhanced User Engagement
Maximizing customer engagement requires a personalized content approach in today's digital landscape. From tailored product recommendations to curated experiences designed specifically for each user, personalization is critical. It signals to customers that they are seen and heard individually, fostering loyalty and encouraging return visits. 
Research indicates that personalization can lead to an impressive 88% increase in engagement.
Convert with Precision
Customizing the shopping experience empowers businesses to present products most likely purchased by each customer, resulting in higher conversion rates. Personalized emails and videos have shown up to five times higher click-through rates than non-personalized communications, driving conversions to new heights.
Delight with Satisfaction
Customer satisfaction is a top priority for online businesses. Personalized experiences play a pivotal role in elevating satisfaction levels, with studies revealing that 80% of customers make multiple purchases from a brand offering customized services and experiences.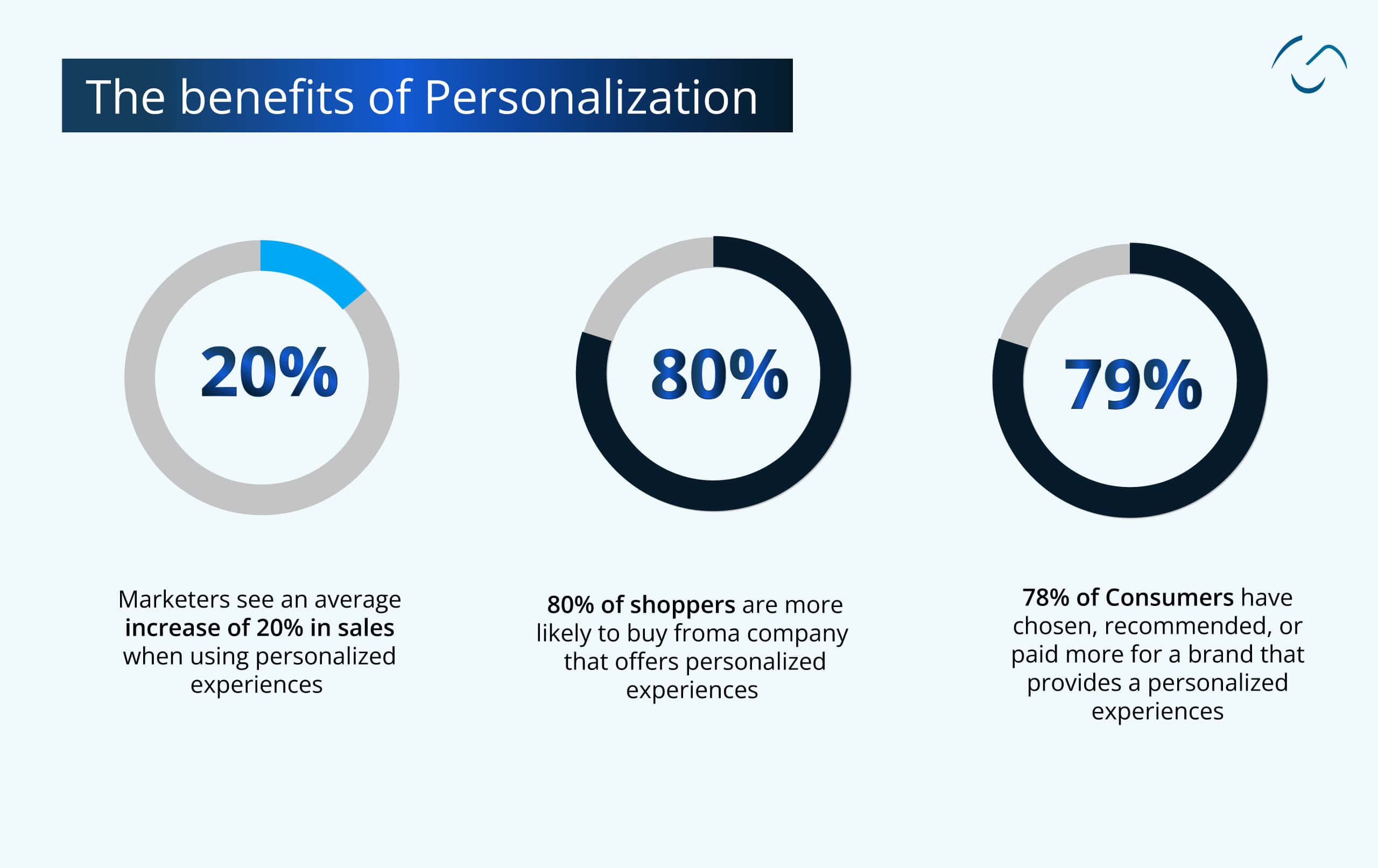 Understanding individual needs allows businesses to offer tailored products and services, surpassing customer expectations and leading to increased satisfaction.
Improved Customer Loyalty
Having a list of loyal customers is a dream of every eCommerce business.
If personalization is the key to turning that dream into reality, why not unthinkingly go for it?
Almost 70 percent of customers are more likely to be loyal to brands that prioritize their needs and customize a whole new experience for them. Making your customers feel essential will do the rest. 
So take care of your customers, understand their needs, tailor your services, and customize them for persistent customers. The probability of selling products to loyal customers is up to 70 percent compared to the new ones. So do not leave your existing customers in search of new customers. 
Offer customers an experience they would love 
If customers do not find what they seek, they tend to leave. About 65 percent of customers go to the brand due to poor experience and look for alternatives.
Creating personalized experiences opens the door to even greater profitability and margin from high-value customers with the highest lifetime value. 
By offering tailored and exclusive experiences, such as product recommendations based on zero-party data or special discounts and exclusive events, businesses can bring short- and medium-term value to their brand and build lasting relationships with customers who could become lifelong advocates.
Embrace the power of personalization to ignite engagement, drive conversions, enhance satisfaction, cultivate loyalty, and captivate high-value customers. Let data-driven insights guide you toward creating extraordinary experiences that leave a lasting impression.
Best Tactics for
E-commerce Personalization
Discover the perfect eCommerce personalization tactics tailored for your business. Simplify your journey with a handpicked list of easily implementable tactics, even if you're just starting. 
Let's make personalization work wonders for you!
Behavioural Personalization
What do you mean by behavioral personalization? Businesses mainly use it to analyze the user's behavior about any displayed personalized offer on their website or app.
Let us explain with an example. Suppose you run an online store, and a user visits it to look for a specified product, a shoe. However, the user returns without making a purchase. Then you will send a personalized notification to the user like "Amazing offer on the go, Take Nike shoes at FLAT 70% OFF". 
This notification will tempt the user to go through the app again and look for products that are on sale and most likely to make a purchase. 
Behavioral personalization is more likely to improve the user's experience. Some tools like HubSpot are available to implement behavioral personalization and create unique campaigns to increase page view time.
Checkout Personalization to extend user's buying journey
Boosting sales in eCommerce through personalization is no secret, and one effective way is through target upsells, cross-sells, and downsells. Each technique uses strategies to increase the customer's average order value (AOV).
Upsells: Suggest higher-priced products that customers have purchased or added to their cart.

Cross-sells: Offer related items based on customer browsing or past purchases, irrespective of pricing.

Downsells: Recommend less expensive alternatives to what customers have chosen.
These techniques work best during three key moments: before, during, and immediately after checkout. At these times, customers are excited, ready to purchase, and more likely to add complementary products. Let's explore successful examples of companies that excel in these personalized strategies.
For example-
Amazon (Cross-Sell)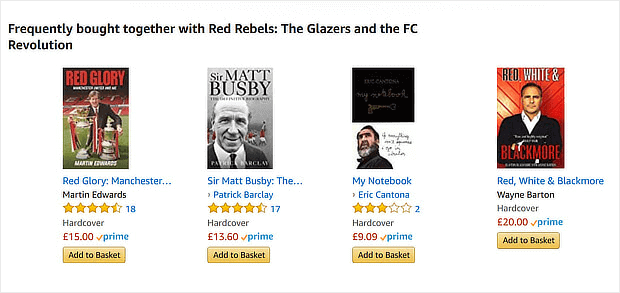 Image Credits: optinmonster
They are offering products that are related to the products present in the cart. The motive is not to down-sell. Instead, the effects are linked, boosting AOV from the specific customer.
LifterLMS (Upsell)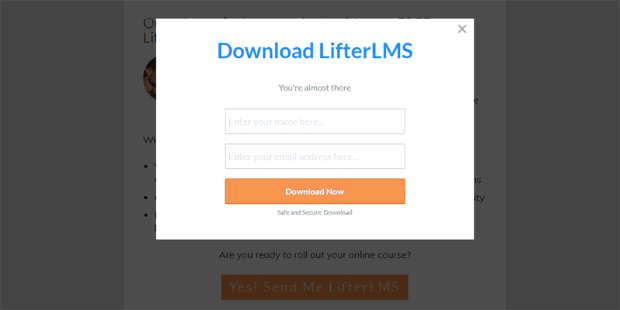 Image Credits: optinmonster
LifterLMS made over $23k in revenue using this upsell strategy and more than 7k leads within five months. 
Dominos Pizza (Down-sell)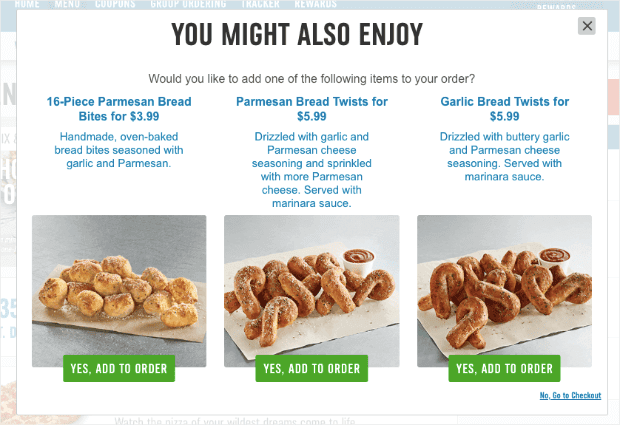 Image Credits: optinmonster
Their strategy of offering low-priced items before going to the check-out page will increase the chance that customers will add them as they have already added high-priced items to their cart, resulting in more probability of adding those items.
Personalize Product Recommendations 
In the tech age, intelligent product recommendations have become easier with the implementation of AI in the right place. It gathers customer data based on their interactions on your website, enabling personalized suggestions for products that align with their interests.
While some may view this as another typical eCommerce feature, it's worth noting that a significant 35% of Amazon's sales stem from product recommendations.
The key to converting customers through product recommendations lies in their relevance to each individual. When customers add items to their cart, they seize the opportunity to showcase product recommendations that align with their current preferences.
Fresh Foam demonstrates this intelligent approach by offering similar products on its product description page.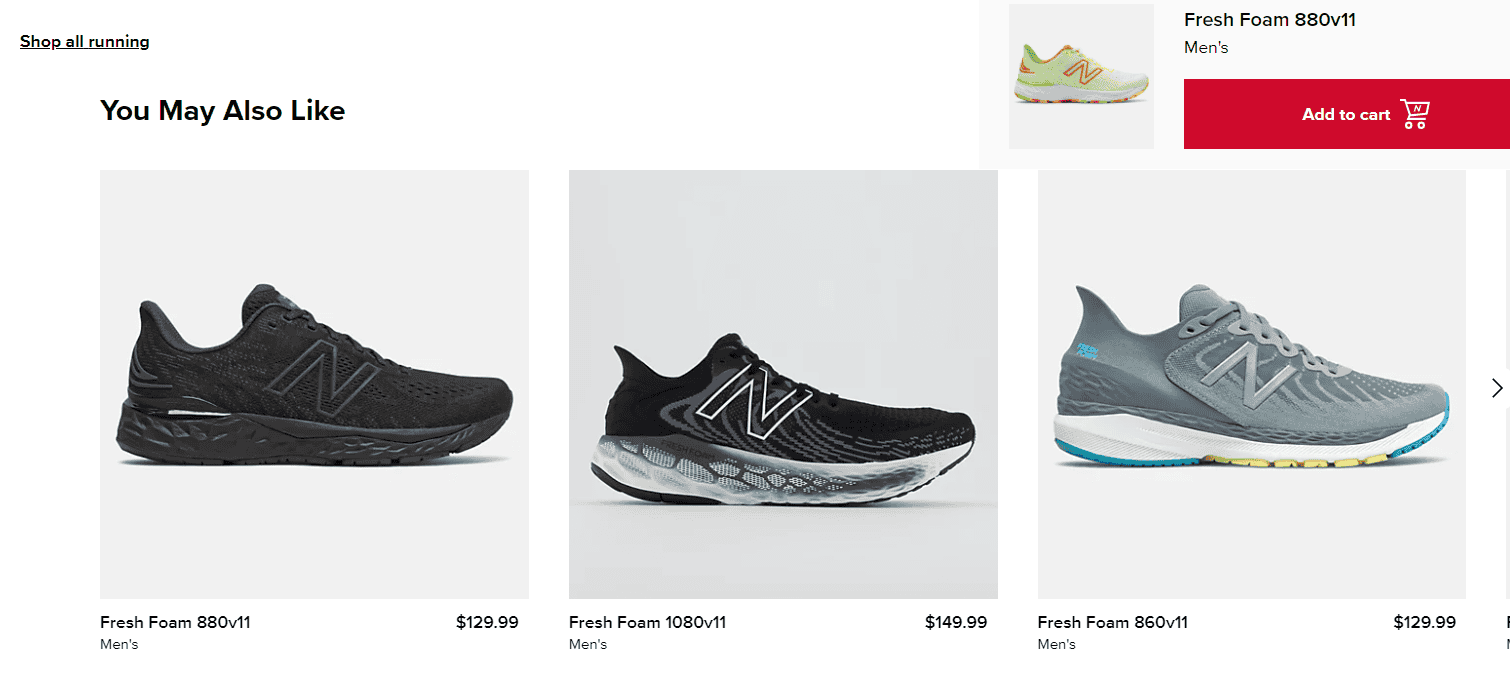 Image Credits: convertcart
Location-specific Product Recommendation 
According to a survey, 9 out of 10 marketers have attested that location-specific marketing led to an astounding 86% increase in their customer base. This form of targeting holds excellent value as it considers cultural disparities and the unique needs associated with specific locations, resulting in customers showing a more substantial interest and preference for particular products.
Enhance your eCommerce store by implementing geo-targeting, which allows you to gather location information when customers arrive on your website.
By employing geo-targeting, you can tailor your marketing efforts to specific areas, focusing on available and relevant products to customers in those locations. This approach eliminates the need to display an entire catalog that may not be accessible or suitable for those areas.
An excellent example of this strategy in action can be seen with Madewell. As customers land on their website, they collect location data to deliver a personalized user experience, ultimately improving conversion rates.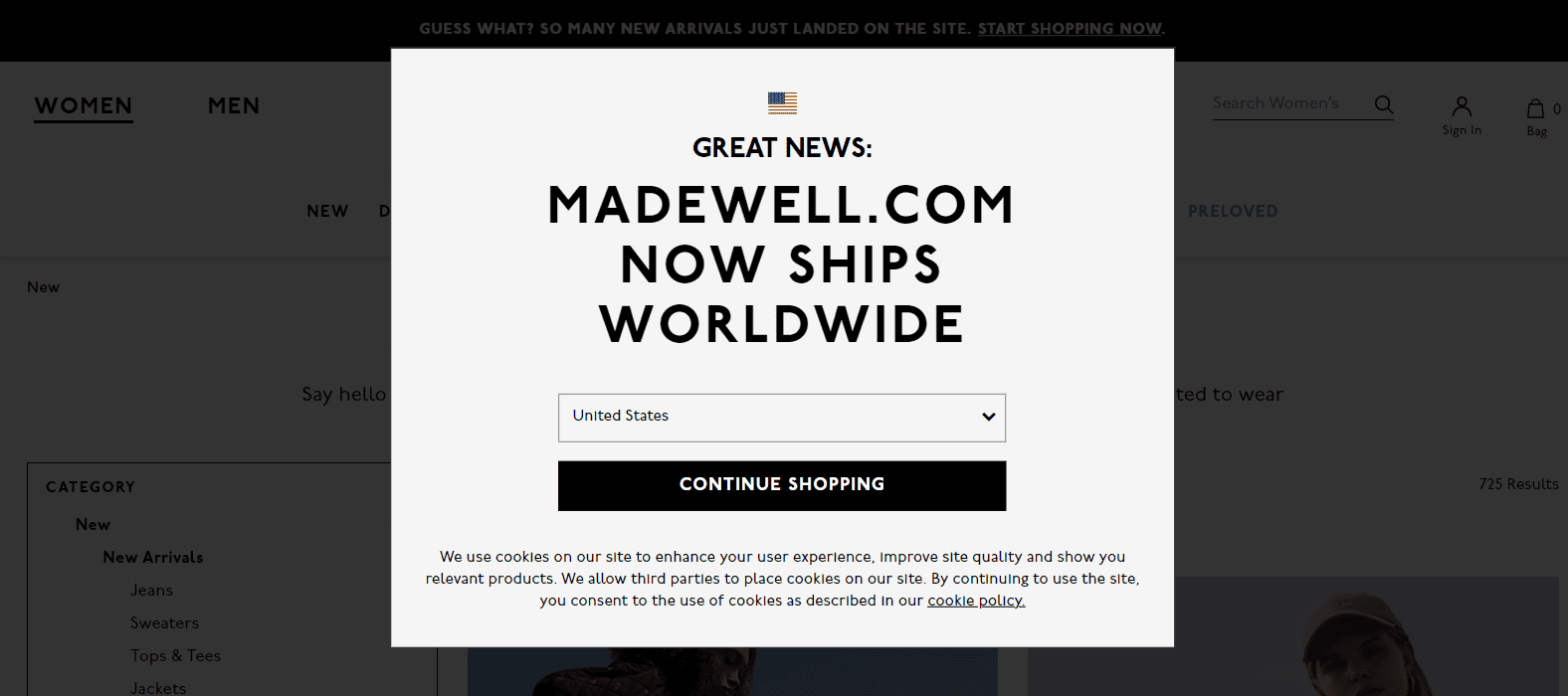 Image Credits: Madewell
Personalized email in Real-time
Regarding email campaigns, behavior-triggered emails outshine other types with an impressive 53% higher click-to-open rate. This statistic indicates that customers highly appreciate and find value in these emails.
Behavior-triggered emails focus on cultivating a more extensive base of loyal customers by providing them with valuable content even before they realize they need it. Within your eCommerce store, you can target customers who have recently made a purchase that typically requires restocking. Leveraging insights from their past purchasing behavior, you can identify these customers.
Whether or not they have made multiple purchases, targeting them just before they would typically restock is beneficial. By sending a gentle email reminder, you significantly decrease the likelihood of them seeking their next purchase elsewhere.
Look at how Sephora encourages customers to replenish their previous purchases, providing a helpful nudge to keep their beauty routines on track.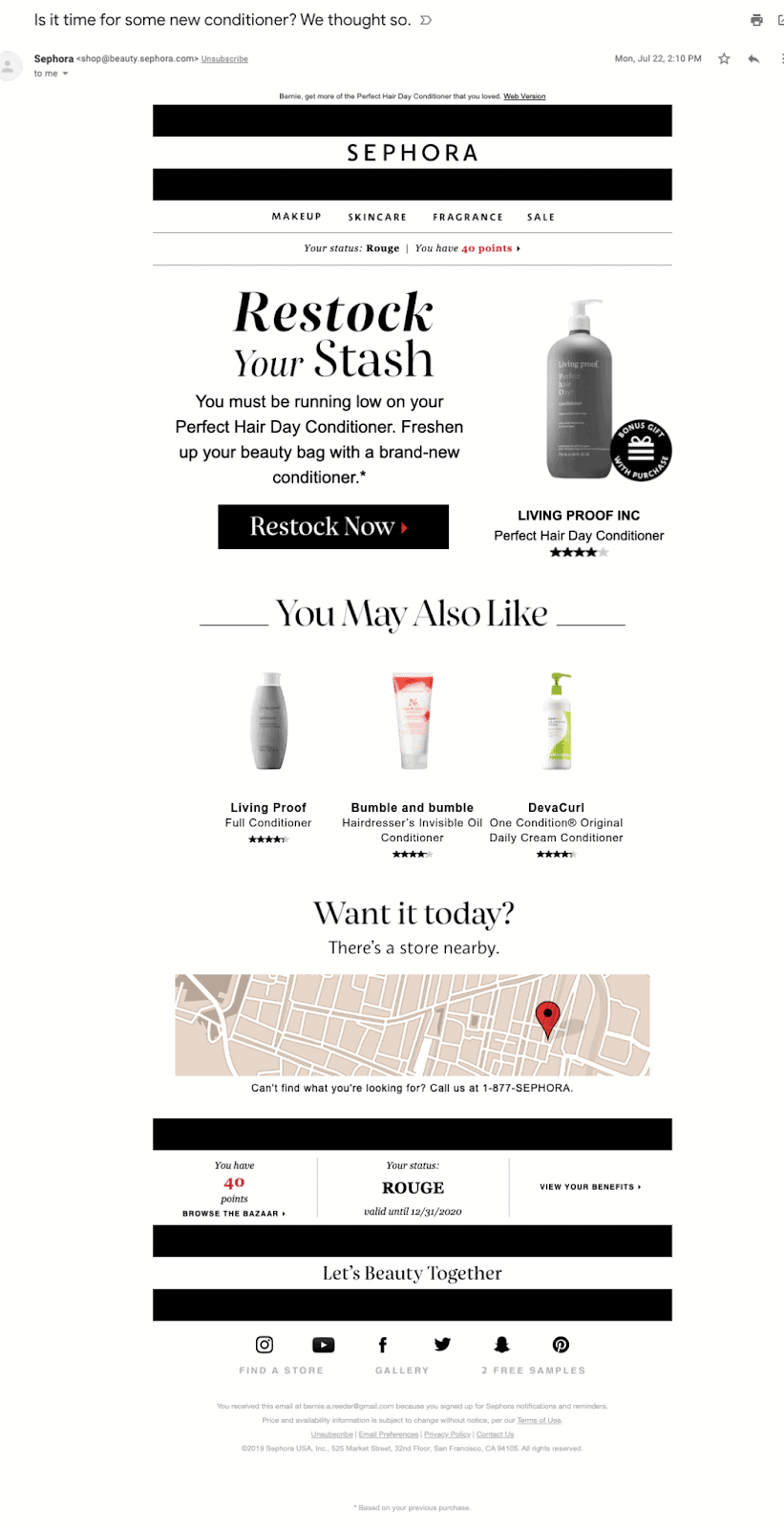 Image Credits: Sephora
Leveraging dynamic landing pages
A customized landing page that caters to a customer's interests and needs has proven more effective in converting mobile users than general landing pages. When a page is tailored to their preferences, they are likelier to take the desired action or engage with the provided call-to-action (CTA).
To maximize its holiday traffic and increase sales, Sabon took the initiative to implement dynamic landing pages that offered different holiday promotions targeted at specific audience segments.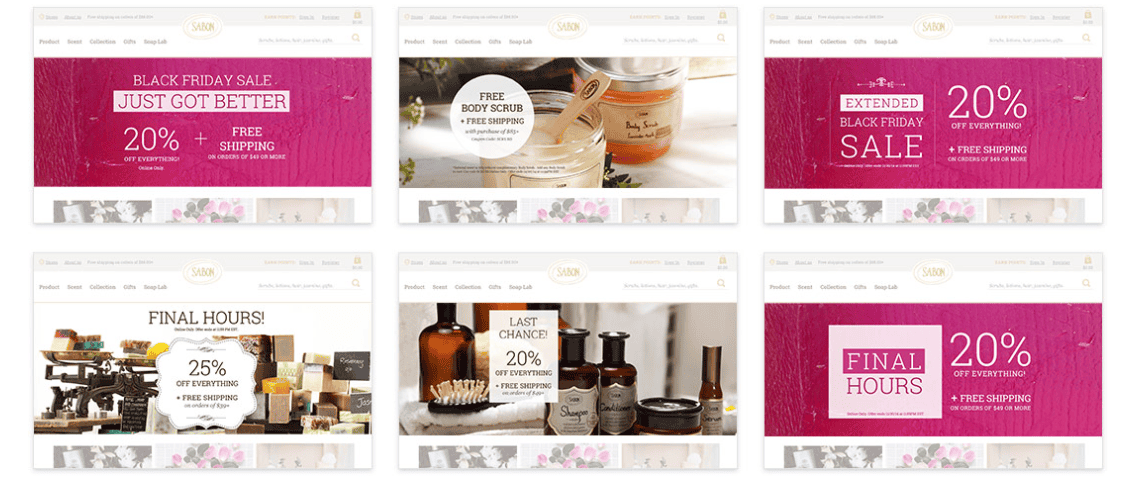 Image Credits: Sabon
Each landing page was designed to cater to the behavior and interaction patterns of other groups of visitors on their website. As a result of this implementation, Sabon witnessed a significant 35% boost in their Black Friday sales and a 20% increase in the value of orders placed through their landing pages.
By utilizing behavioral dynamic landing pages, Sabon gained valuable insights. They discovered that their returning customers were inclined to click on individual landing pages that provided value based on their previous purchases.
Personalized Coupons
Do your loyal customers only hit your online store for a short time? What is keeping them away? 
Send them customized coupons to persuade them and try re-engaging inactive customers to make sales. For example, Royal Canin analyzed their customer's data and adopted a personalized coupon strategy for their customers. It resulted in driving around 74 percent of customers, improving brand visibility. 
So, keep track of your CRM data to design personalized coupons for better customer engagement.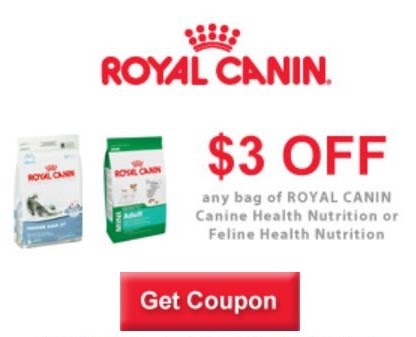 Image Credits: royalcanin
Leveraging Chatbots for additional sales support
ECommerce transactions have taken a new fold today, projected to amount to $112 billion by 2023. One of the top brands, Amazon, is leveraging its trendy gadget "Alexa" as its shopping assistant on their app, making it easier for customers to add items directly to their cart and place orders. 
This is the future, or prepare yourself with high-end chatbot integration for personalization. Below is an example of how eBay leverages shopbots to improve customers' shopping experience.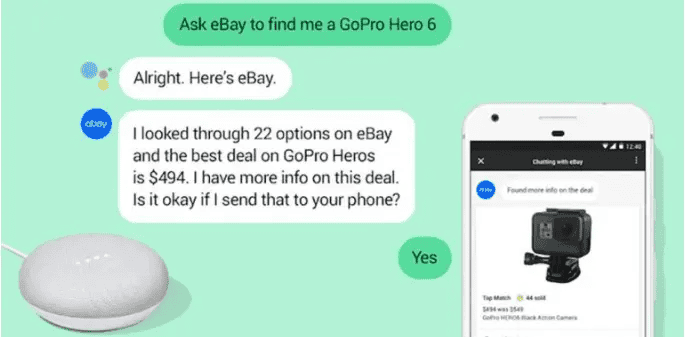 Image Credits: eBay
Well, tons of tactics can suit your business needs. All you need is to think out of the box and understand how you can leverage today's technology to make it better for your customers.
Companies Benefitting from E-commerce Personalization
Not only startups but fully established businesses are also leveraging the power of personalization in e-commerce. See who those businesses will entice you to go for personalization.
It is a brand everyone uses and knows about—thanks to their fantastic personalization tactics. One of the effective tactics is their cross-sell strategy, which we have already highlighted, from personalizing emails and notifications to personalized scratch vouchers after making payments. 
Amazon has taken personalization seriously and excels in what they do and sells.
With their intelligent choice of providing options for newsletters. They allow customers to select their choice of blogs they want to receive. 
This might not be an e-commerce personalization, but this is helping customers improve their experience and eliminate spam emails.
Need help finding the right product for you? Flipkart helps its customers by recommending product alternatives based on your recent history. This will provide you with a list of items that you might consider.
This strategy ends up selling the product much faster than any other tactic, saving many customers time in finding the right product.
With their dynamic pricing tactic with location-based personalization, they help their customers find the accurate amount they have to pay for their CRM services.
Personalization has more scope based on what technology you are using to make it work. As the technology expands, companies can leverage them and make customer's experience better than ever. 
Go for E-commerce Personalization with OnGraph.
In a world where customers crave personalized experiences, OnGraph emerges as a game-changer in e-commerce personalization. By harnessing the power of advanced recommendation engines, dynamic content personalization, and intelligent search capabilities, OnGraph empowers businesses to deliver exceptional customer engagement. 
Elevate your e-commerce game and unlock the true potential of personalization with OnGraph. Leap and revolutionize your customer experience today!