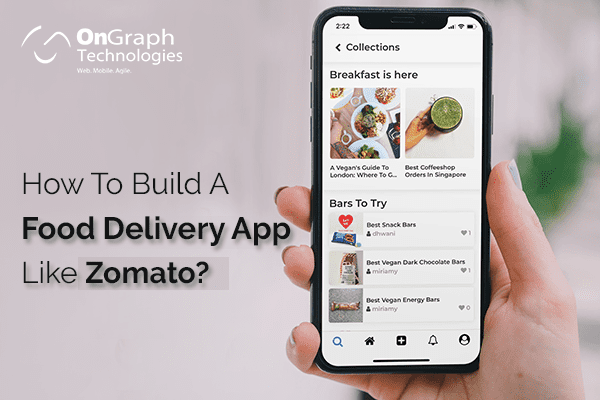 On-demand food delivery is a rapidly growing industry. When millions of people want and desire something, on-demand food delivery apps such as Zomato, Eat 24, FoodPanda, and Uber Eats satisfy their demands.
People are having meals sent to them any time of day or night, whether it's midnight cravings or early morning hunger pains.
Why Are Food Delivery Applications So Popular?
Higher sales are expected by using these platforms to register a food business or restaurant. Sellers also benefit in numerous other ways, including cost savings, internet presence, and customer happiness.
Even if you order food from a well-known restaurant chain today, many clients would advocate using one of the most popular food delivery apps.
Should You Invest in a Food Delivery App Like Zomato?
If you've already recognized the growth possibilities of online food ordering and delivery, go to our next section on "What It Takes To Develop A Food Delivery App."
If you're not aware of the sector or its development, keep reading to discover how much potential there is.
The restaurant market is exploding. Restaurant finder applications now provide three-fold benefits to restaurants, delivery people, and consumers.
Although numerous major players have already entered the league in order to gain a head start. However, if new players can only improve the experience for all three users of the apps, the sector has huge prospects for newcomers.
Let's take a look at some statistics and get some important insights into the restaurant industry in order to better appreciate the value of a food delivery app:
Statistics That Prove Demand For An App Like Zomato
1. Sales Growth 20-25%
On-demand food ordering and delivery applications have helped eatery businesses increase sales by 20-25%.
2. 10 Million+ App Downloads In App Stores
One of India's popular food delivery applications has reached more than 10+ million application downloads which is no less than popular social media apps. If provided with even better features, functionalities, and services, the number can bring you to another level.
3. Revenue Growth In Food Delivery $91, 701M+
Food delivery apps help restaurateurs generate revenue and multiply it 5x faster. An app like Zomato having advanced features and customer service enables you to meet your dreams.
4. Increase in In-App Payment
In 2019, payments made through applications on food orders have already touched $210.45 billion.
On-demand enterprises are experiencing tremendous success. When compared to other fast-growing businesses, the food delivery app market has a 10% share of the overall market.
However, Zomato and Uber Eats occasionally provide consumers with innovative discounts and alternatives that boost their user base and app downloads in the Play Store.
As a consequence, we predict that the food delivery apps' market share will surge in the near future. It's an excellent time to start working on your own food delivery app if you're considering it and searching for the appropriate team.
How a Food Delivery App Generates Revenue?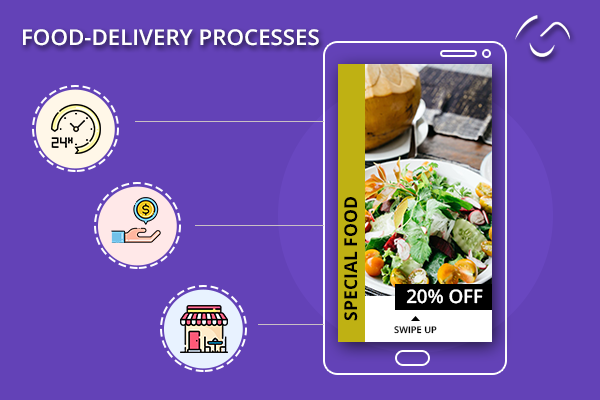 One would not regret the decision of investing in a food delivery app. The program may help you generate money in a variety of ways through various food-delivery procedures.
Delivery Charges
Food delivery is one of the most important aspects of an online restaurant's operation. Food delivery is a time-consuming process that not all restaurants are prepared for. It's a lifesaver for those restaurants because it allows them to take internet orders without having to think about their dispatch.
You have the option of applying a fee to each delivery or, alternatively, a set price depending on the distance. Charging a fee for delivery services helps you to maintain a consistent revenue stream.
Commission from Food Joints
You may set up commission rates for each food establishment based on the total order amount during a specific time period. The rate is determined by factors including a restaurant's level of operation, average income, and other metrics.
Surge During Peak Hours
The most common method for increasing your income is to offer more services or items at different times of the day. Charging extra during peak hours may provide you with a significant amount of extra cash. UberEats adopted this strategy in their food delivery app strategically. They limit the number of menu items, locations, and delivery costs during peak hours in order
Although the technique has certain benefits, it also has drawbacks. Customers may switch to a competing app if they discover lower prices.
Advertisements
Advertising is an indefinitely renewable source of income. With a premium, you may incorporate restaurants in innovative ways in your app. This helps you earn money faster. However, keep in mind not to stifle or inconvenience your customers' in-app experience. Also, always verify the restaurant's feedback and ratings for their satisfaction levels before trusting them.
How Much Does it Cost to Develop a Food Delivery App?
As we get some idea about food delivery apps on a holistic level, it is time to talk about app's components that directly impact the cost of food delivery app development and allow us to make the most from the whole industry.
Here we are listing down the top features that make an on-demand food delivery app stand out.
Must-Have Features of a Food Delivery App
Whether you go with a Food delivery app like Zomato or UberEats, you'll have to build four apps and then combine them into one program that gives users a consistent experience in real-time.
Yes, it's correct. There are four applications to be created. Your application concerns three distinct stakeholders: restaurants, delivery personnel, and consumers. Then a panel for Admin is required that will keep track of your company's operations and success.
Let us look at the features from the side of all four stakeholders.
Customer Side:
Login
Search
Menu
Cart
Payment Integration
Order Tracking
Rating and Review
Customer Support
Restaurant Side:
Login
Menu Management
Push Notification Checking
Rating and review
Delivery Side:
Registration
Order Management
Updating the Order Status
Admin Side:
Admin Login
Restaurant Management
Application Management
Payment Management
Discount Offers and Coupons
Technical Assistance
Take note of these features since your application needs them at first to make it to the market/target audience.
Technology Stack of Food Delivery App Development
For Restaurant Listing – Grubhub API or FourSquare API
For Payment – Square API, Braintree, Stripe, PayPal
To Find user Location – Core Location Framework, Google Places API
To Find Directions – Google Maps, MapKit
For Cloud – AWS, Azure
For Registration – Facebook SDK Login
For Storage – Amazon Cloud Storage
For Analytics – Google Analytics
We hope that after reading this, you have a better idea of what it takes to create a successful food delivery app. It's also critical to be familiar with the problems you'll encounter and the potential solutions available when you begin an app development project.
The difficulties of entering the mobilized food-delivery Market (and their solutions)
1. Competition
Whether you're just starting out, or well established and want to get into the online food ordering and delivery industry, you'll have to compete with other companies already operating in the crowded field.
One of the most striking instances that substantiates our claims is the buzz surrounding Zomato's purchase of UberEats' Indian operations.
When it comes to competition, you must take a step out and provide something that other players lack, both in terms of features and the app UI/UX.
All three stakeholders of a food delivery business must be addressed in new ways. It also covers registered restaurants and delivery drivers, as well as your rivals' customers.
When the time comes, more interesting features will be available on-demand for food ordering and delivery, such as discounts, alternatives, in-app conveniences, and many additional elements. This competitive market will allow you to make a statement by providing more appealing options like discounts, choices, in-app amenities, and other factors.
2. Finding Restaurants to Partner With
Establishing credibility for a startup is a time-consuming process. As a result, you should not attempt to compete with established restaurants that are selling well below your competitors' rates. Though it has nothing to do with the app's pricing, this is undoubtedly one of the most difficult phases in increasing your company's success.
You might contact small restaurants to see if they want to partner with you for business promotion. Instead of approaching major companies, you should target smaller businesses that not only provide additional food ordering choices but also help you develop recognition for your firm.
3. Stable UX/UI Among All Panels
The goal of each of the four screens is distinct, and they must meet every individual requirement. Because food delivery applications need to be nimble, change frequently, and provide a wide range of services and products, they require frequent adjustment in all four apps.
The goal of this interactive installation is to create an experience in terms of design and movement. This is constant across all the various screens, with different purposes.
4. MVP Features
MVPs have a significant impact on the cost of food delivery app development. It's difficult to pick out which elements to include and which to eliminate when you're first starting out.
It is suggested that you should not start full-scale development right away. Rather, start with the MVP [minimum viable product], which is not only cheap but also time constraining. A mobile application development firm will assist you in creating an MVP that may be used to finance your company.
5. Finding the Right Team of Experts to Develop Food Delivery App
An excellent application development firm is crucial to the success of a project. It's not only difficult, but it's time-consuming to locate the finest technical help for every technical question you might have.
The number of potential clients in the market is another factor to consider, which means finding your dedicated developers may be the most difficult part. Your developers are your company's greatest asset and one of its most significant expenses.
While it may seem like a time investment, finding the best-outsourced team that not only converts your concept into a fully functional application but also ensures that your journey in the crowded on-demand food delivery business is smooth.
After all of the variables have been considered, it's time to look at the expenses of a food delivery app development.
Cost of Developing a Food Delivery App
There are a number of elements to consider that contribute to the overall cost of mobile application development. We'll try to give an estimate for how much it would cost to develop a food delivery app.
Your specific requirements for your on-demand food delivery mobile app will determine the price at first. You pay a team of experts to help you build and integrate those features into your meal delivery app, which costs between $30,000 and $40,000.
When you hire a capable app development firm, the cost will usually include all app development needs, including mobile application design and development for both Android and iOS versions of the app, as well as testing and market launch. If your company's model requires an online restaurant menu application, costs may range from $50,000 to $60,000.
It's important to understand what features and characteristics you'll want in the future food delivery app market. When talking to your application development businesses, you not only reach a better position when it comes to marketing but also make more informed decisions. 
Bottomline
The trends that will define the future of online food ordering and delivery applications are shaped by people's increasing demands every day. However, not many players are currently in the market, so it is likely that the sector will change in the near future.
We hope that our comprehensive blog will assist you in creating an excellent app and establishing a lucrative online food ordering and delivery company.
Have a next big app idea? Get in touch with our experienced mobile app developers and get started with your own entrepreneur journey today!