People from all industry verticals are fascinated by the advancement of technology, which is rapidly transforming our lives into the digital world!
With new technology trends emerging every quarter and information becoming obsolete as technology advances, staying updated and learning about the latest technologies, digital industries, social media, and the web, in general, has become a necessity!
IT Companies across the world produce countless numbers of technology blogs and content. They leave no stone unturned to provide up-to-date information related to a particular existing or emerging technology.
Similarly, at OnGraph, a leading IT company, we try to cover all the major tech stacks with the latest developments and releases.
These technology blogs not only showcase high-tech breakthroughs but also assist readers in staying ahead of the curve by identifying current tech trends!
There are numerous blogs on existing and emerging technologies but finding the one which helps you get started is a cumbersome job. So we thought of bringing you a list of the top 5 tech blogs you should start with.
These blogs will provide you with everything you need to know about present tech!
Let's get started!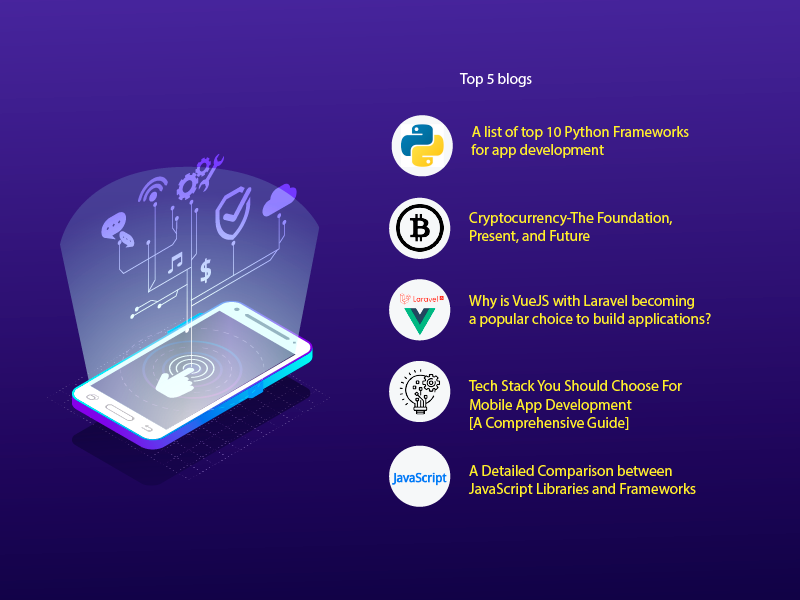 1. A list of top 10 Python Frameworks for app development
Python frameworks are plentiful because it is one of the most popular programming languages. Each framework comes with its own set of advantages and disadvantages. As a result, the decision must be made based on the project's requirements as well as the preferences of the developer.
Python frameworks are divided into three categories: full-stack, micro-framework, and asynchronous. This blog will give you a quick look at the top 10 python frameworks for app development before moving on to the finest Python framework to use for your project.
2. Cryptocurrency-The Foundation, Present, and Future
Cryptocurrencies have recently become a very popular and widespread phenomena, as well as a topic of discussion among 'cyberjunkies.' Cryptocurrency is also being described as the "future money."
However, despite its growing popularity, many people in the general are still unaware about cryptocurrencies. So, let's have a look at this blog to know the foundation, present, and future of Cryptocurrency. Also, why it's important in today's world.
3. Why is VueJS with Laravel becoming a popular choice to build applications?
The wonderful thing is that VueJs now comes pre-packaged with Laravel as a backend framework. This means that when you utilize the Laravel platform to build apps, you'll get a fantastic build tool based on a web pack and Laravel mix.
It enables web application developers to start constructing complicated single-page applications without having to bother about source maps or transpilers, for example. You also don't have to worry about code packaging or any of the other nasties of modern front-end development.
To learn more about the wonders done by the combination of VueJS and Laravel, don't forget to read this blog.
4. Tech Stack, You Should Choose For Mobile App Development [A Comprehensive Guide]
For mobile app development, the technological stack refers to the mix of programming languages, software development kits, frameworks, and, in general, any other technologies that contribute to the final output.
Many factors influence the success of your mobile application. Choosing the right technology should be the first thing you do as soon as you decide to create one. Clearly outline your project's goals, target audience, a list of features your app should have to compete in the market, and ultimately, the tech stack that will be ideal for your app. This blog will be quite beneficial.
5. A Detailed Comparison between JavaScript Libraries and Frameworks
The primary difference between JavaScript libraries and frameworks is that libraries are made up of functions that an application can use to execute a task, whereas frameworks specify how an application is designed.
In other words, rather than the application code calling on the framework, the framework calls on the application code. Of course, libraries are still required for JavaScript developers to complete basic web operations. Even if you're using a framework, it's still necessary to have a thorough command of Javascript.
When choosing any JavaScript library or framework, there are a few key questions you might have in your mind.
To answer all those questions, we have curated this blog in the best possible way. Have a look!
We Hope These Posts Are Valuable To You
We hope that this post helps you hook up on what you've missed, or revisit some things that are more relevant to you now.