Digital transformation is inevitable for businesses today. Web and mobile apps have revolutionized how businesses connect with customers. Blockchain technology is another technological innovation that holds the potential to reshape the future of many industries. Businesses are looking forward to hiring the top mobile app and web app development companies that can leverage a combination of these technologies to build profitable applications enabling them to upsurge business profits.
GoodFirms has recognized OnGraph Technologies for its versatile skills and vast development experience that put the Company as one of the top industry contenders  through the Leaders Matrix program and was identified as the "Best Company to Work With." With offices in the USA, Canada, UK, India, Malaysia, and Singapore, OnGraph Technologies offers broad-spectrum app development services and specializes in mobile and web app development, digital transformation, eCommerce, CMS, AWS Managed Services, blockchain development, and more to businesses worldwide. Come up with an app idea, and OnGraph Technologies will convert it into an unmatched reality.
For the year 2022, GoodFirms named OnGraph Technologies as the "Best Company to Work With."
If you are looking for the top mobile application development companies specializing in Flutter, OnGraph Technologies is the right partner for you – recognized by GoodFirms Leaders Matrix. Established in 2008, OnGraph Technologies has developed 2000+ world-class, end-to-end web and mobility solutions that have earned numerous loyal customers and exceptional client retention. Through the diligent efforts of a highly talented team, the Company takes pride in delivering unparalleled business success to its clients globally. GoodFirms recently recognized OnGraph Technologies as the "Best Company to Work With" in 2022.
OnGraph Technologies – Vision, Strength & Scope
Leveraging its core values of quality, honesty, transparency, and a customer-oriented approach, OnGraph Technologies strives to ease the life of humans by delivering smart, sustainable solutions at affordable prices. Moreover, the company's clients acknowledge their agile approach and extraneous focus on creating a fantastic user experience.
OnGraph recently developed an all-in-one messaging and social commerce app based on blockchain technology for the Malaysian community. Also, the company's attempt to develop an IoT Powered foot measuring and business analytics software for one of its clients was a huge success.
OnGraph Technologies successfully completed mobile application development and design services for iOS and Android platforms for another client. The client highly recommends OnGraph Technologies for their overall performance and has rated them a full 5/5 for this project. The company has many such success stories to its credit.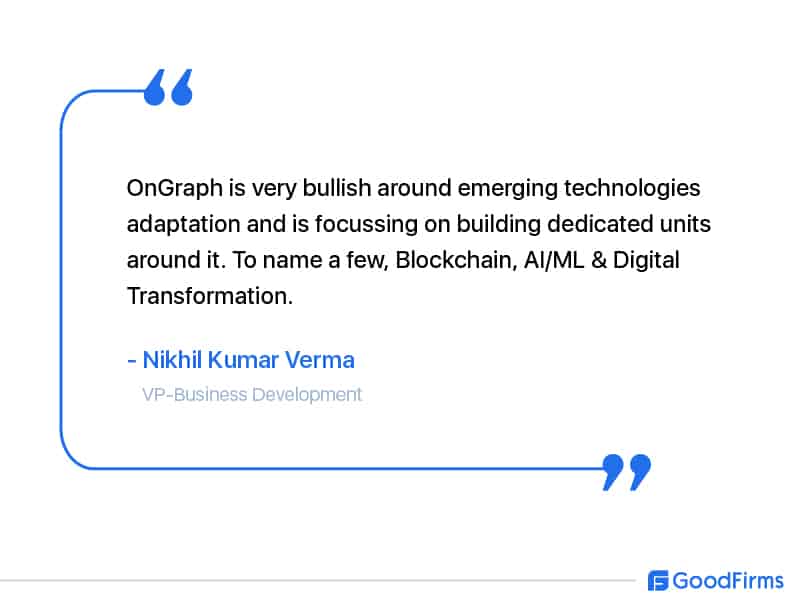 Why is OnGraph Technologies the Best Company to Work With?
Innovation, agility, and customer centricity are the keys to business success, and OnGraph Technologies has proved this. OnGraph Technologies has the right aptitude for creating a win-win situation where both the company and its clients grow. The company also recently participated in the MWC event held in Las Vegas, USA, showcasing its expertise to a vast audience.
"We believe OnGraph Technologies' positioning in GoodFirms' Leaders Matrix report reflects the company's ability to help its clients with digital transformation, mobile & web app development, AWS managed services, and blockchain development services in a manner that helps its clients enhance their overall business performance, boost profits and gain a higher edge over the competitors," said GoodFirms.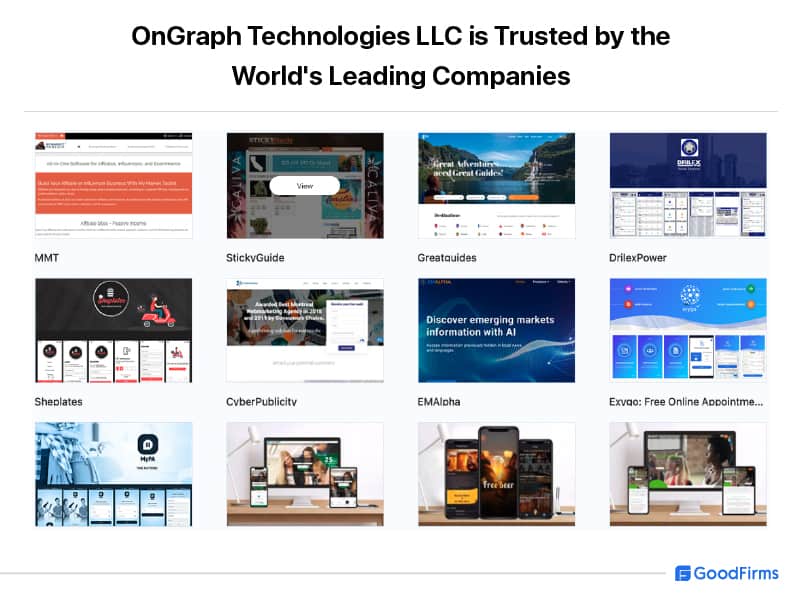 OnGraph Technologies had to undergo a rigorous assessment under the GoodFirms Leaders Matrix program. The evaluation covered the service landscape, verified client reviews, experience in the domain, market, competitive positioning, and much more. Such analysis helped in bringing out extensive strategic information about OnGraph Technologies' capabilities, competitive differentiation, and market position.
About the "Best Company to Work With" Badge
"Best Company To Work With" is an exclusive program run by GoodFirms where the Leaders Matrix companies are recognized with a Badge, an exclusive article about the Company, and a supporting PR. Such recognition stands as a support to developing trust and authenticity within the B2B community. It also allows the participating companies to improve their ranking – rank higher in the Leaders Matrix categories, receive inbound backlinks from GoodFirms LeadersRoundtable podcast campaign, and get a certified Badge saying, "Best Company to Work With."
About GoodFirms
GoodFirms is a B2B research, review, and listing platform helping businesses accelerate their digital journey and to maximize the value of modern technology. The company connects service providers with service seekers through a comprehensive and thoroughly researched fact-based list of the best services and solutions. Recognized as the most reliable source for the B2B market, GoodFirms has world-class experience with partners across the globe.