When it comes to Apple watch development, the Apple Watch Series 8 will replace the existing Apple Watch Series 7 in 2022. After the denial of the biggest leakers claim by Apple and the introduction of the more rounded smartwatch rather than a flattened one, it is really difficult to predict what we can expect from the Apple Watch Series 8. 
As compared to the next iPhone, Apple Watch rumors have conventionally been less common. In order to ease the task of controlling information leaks, the Apple Watch does not have as many users and there are also fewer suppliers for its manufacturing. 
Although, as the Apple Watch has been around in the market for over six years, we can predict some of the trends in Apple Watch development. So, let's have a look at them.
Latest Trends in Apple Watch Development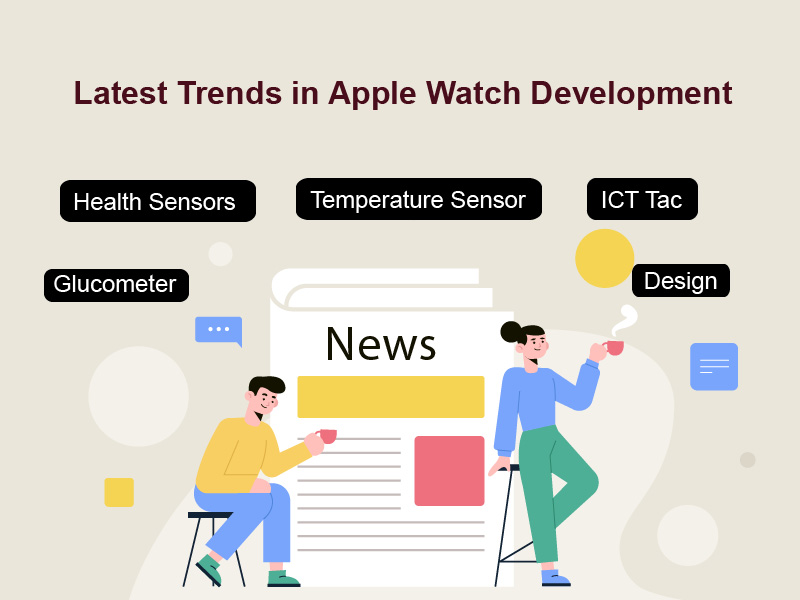 Health Sensors
In recent years, we can observe that Apple has marked itself by providing health care practically with its Apple Watch. Now the question arises, what other health sensors will come out with Apple Watch Series 8.
Temperature Sensor 
From 2021, it was revealed that Apple wishes to install a temperature sensor in its latest watch series 8. This appears much more feasible as compared to blood glucose monitoring as there are devices already available in the market that allow continuous temperature measurements like the Oura-Ring and the Fitbit Sense. 
ICT Tac
In general, the Tick-Tock cycle signifies the development of alternating design or technology. This means that one year, a change might happen and the other year, no change might happen. This seems like a common method that Apple has been using with its Watches since the Series 3. 
Glucometer 
Apple has spent many years researching a non-invasive method of measuring blood sugar. There are a few startups who claim to be capable of measuring blood sugar without the need for a blood sample and also offering working prototypes. Dexcom G6 makes use of a tiny sensor under the skin to measure blood sugar and the Japanese company Quantum Operations claims to be able to measure blood sugar without a blood sample. 
For some time, Apple has been working with vendor Rockley which in 2021 announced the distribution of biosensors in 2022 to measure different biomarkers. 
Design 
The design of the next Apple Watch is its biggest unknown. Though, images from 2021 showed a new look for the Watch with straight edges. However, in contradiction to this, the Watch had more rounded edges as compared to before. Some suggested that due to manufacturing issues with design, Apple was forced to make last-minute modifications to its plans. 
There has been a prediction by display expert Ross Young claiming that Apple is planning on a third display size for its latest Watch. There's a good chance for a bigger model, maybe with a 49mm screen size. 
Wrapping Up:
So, these are some of the many trends one can expect with the latest Apple Watch Series 8. For more updates, you can stay tuned! You can also hire Apple Watch developers from a good company to work with you as an extended team.