Before jumping to the top eCommerce platforms for small to mid-sized businesses, it is essential to understand the need and importance of an eCommerce website for a business. 
While many sectors suffered during COVID-19, eCommerce was one such sector that has seen the highest growth and is set to continue well in 2022. Online sales have strengthened like nothing before in the absence of open brick-and-mortar stores.  
For many businesses, the switch to eCommerce has been a setback. Still, it is one that many influential brands have managed to overcome and begin to reap the advantages in terms of revenue. 
Making the transition to the internet is not as easy as it seems for small and medium-sized businesses. With retailers around the country dealing with the financial fallout from the lockdowns, it's understandable that many small businesses are wondering if it's worth it.
E-commerce is becoming a more significant element of the retail industry and the economy. Small businesses could consider selling online as a source of money and a method to engage with their customers and build their brand. While brick-and-mortar stores aren't going away anytime soon, online purchases are becoming an increasingly important component of how we shop around the world.
The entry of Small Businesses into the realm of eCommerce
Many small business owners simply dabbled in digital commerce at first, but the situation has steadily evolved. The relevance of eCommerce has been recognized by small enterprises. They understand that, while internet shopping has many advantages for consumers, it also has many advantages for merchants.
This is precisely why, in addition to having a physical storefront, many small businesses are now operating their online stores. eCommerce websites offer a wide range of advantages to small enterprises. The most important are listed below.
What are the benefits of eCommerce to small businesses?
     1. Low Operational Costs
     2. Increased Revenue
     3. Greater Customer Acquisition
     4. Social Recommendation
     5. Customer Buying Analytics
     6. Online Presence
     7. Full advantage of Customer Advocacy
     8. Larger Marketing ROI
Top 5 eCommerce platforms for small to mid-sized businesses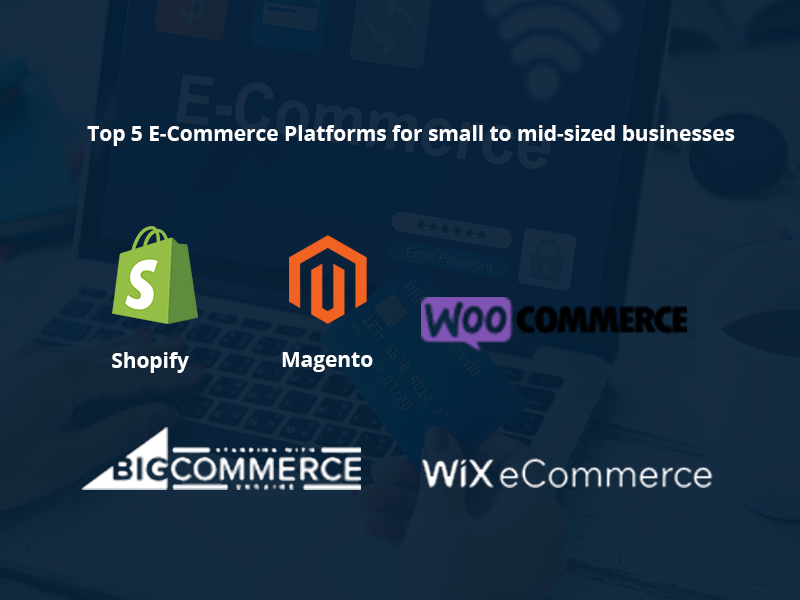 Shopify
Shopify is one of the most popular and widely used eCommerce systems for enterprises. For small enterprises, it is one of the best eCommerce website builders. This website builder's user interface is extremely user-friendly. You don't need any IT or coding skills to set up your store. Many businesses like Shopify because it allows them to create a high-quality, customizable store without having to learn how to code or design. Shopify is a platform that caters to both small and large eCommerce enterprises. If your little business grows and expands beyond a small business, you won't have to worry about moving platforms. You can upgrade to a plan that is better suited to larger businesses. When it comes to design, you have hundreds of themes to choose from. Shopify has a wide range of themes to suit a wide range of enterprises. If your little business grows and expands beyond a small business, you won't have to worry about moving platforms. The nice part is that all of these solutions are mobile-friendly. Thanks to responsive design, your website will adapt to whichever device a visitor is using. Regardless of the style you choose, you won't have to worry about customizing your website for mobile consumers. If you run into any problems when building your site, Shopify's customer service is available 24 hours a day, 7 days a week to assist you. You can contact them if you have any questions, complaints, or need help managing features on your website. When it comes to the financial side of your website, there are no transaction fees if customers buy things from it. Shopify also provides fraud detection services to keep customers safe. Overall, Shopify is a great choice if you're searching for a user-friendly website builder that's also simple to customize. Optimizing your website for search engine (SEO) is very straightforward with the help of a Shopify SEO expert.  
WooCommerce
If you want to host a blog for your business, WordPress is a good option. WordPress may also be used to create an online store for your small business. You may easily develop a working website for an eCommerce business using the WooCommerce plugin. WooCommerce enables you to build a completely customizable website for your company. It's an open-source eCommerce plugin that allows you to integrate eCommerce into your website. This plugin has gone viral among small businesses that already use WordPress. WooCommerce allows you to add eCommerce features to your website. You make it simple for customers to browse and buy your stuff. It's an extremely user-friendly plugin that you may use to quickly build a website. When you invest in WooCommerce for WordPress, you gain access to a large developer community that will assist you in creating the ideal website for your company.  
BigCommerce
BigCommerce is another amazing eCommerce platform. This platform is great for creating eCommerce websites for both small and large organizations. BigCommerce provides a comprehensive range of eCommerce tools to assist you in the development of your website. You can also include social media on your website and sell your products there. BigCommerce makes it simple to expand your business and sell your products on other platforms. Using your BigCommerce site, you may create stores on other sites like Amazon and eBay. It's an excellent method to broaden your company's reach while maintaining consistent brand identity across platforms. BigCommerce, like Shopify, provides 24/7 customer assistance for all of your needs. You can enlist their assistance in the creation of your website. BigCommerce can also help you handle your payments and shipping. It's a versatile platform that makes it simple to construct and maintain your website.  
Magento
Fast-growing small and medium businesses can benefit from Magento's many useful and interesting features. By permitting multi-address delivery and a forum that nearly answers everything about them, the versatile and powerful eCommerce platform makes online purchasing simple and economical. Magento includes templates, widgets, and add-ons, allowing for a wide range of customization options. This open-source platform, on the other hand, is perfect for business owners who have immediate technical experience. It necessitates a great deal of coding, designing, and setup, all of which are not user-friendly and may lead non-technically knowledgeable business owners to engage a specialist to handle such chores.  
Wix eCommerce
Wix eCommerce is a wonderful alternative if you have a minimal product assortment. Small businesses with less than 50 distinct goods can use this platform to construct attractive websites. Creating a good website is simple and straightforward. A drag-and-drop theme is used to build up Wix eCommerce. You have the freedom to add and delete features as you see suitable for your company. This makes creating your own unique storefront a breeze. Wix eCommerce, like other website builders, offers a variety of attractive website themes. To build a website with Wix eCommerce, you don't need a lot of design experience. To use Wix, you don't need to know how to code. It's simple to create your own website using Wix Code, even if you don't know how to code. Wix eCommerce is an excellent alternative to help you design your website if you're a small business with a limited product selection.  
Top 5 eCommerce platforms feature comparison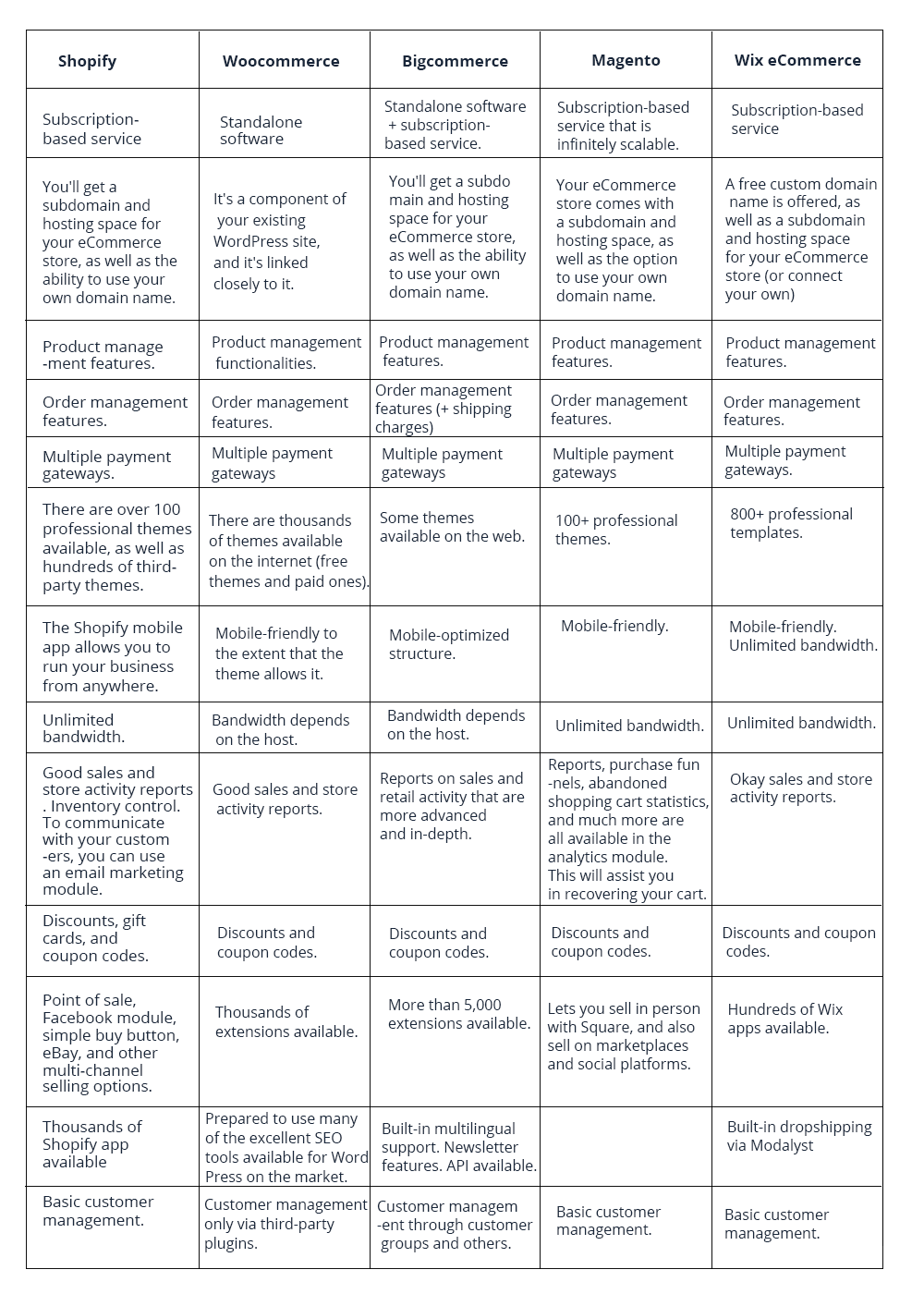 Conclusion:
An eCommerce platform helps small and medium enterprises earn revenues and create credibility by doing more than just making websites more attractive with interactive functions that highlight products. It also enables businesses to deliver product information and real-time updates while they operate 24 hours a day, seven days a week. eCommerce platforms also assist firms in managing their earnings, keeping track of their inventories, expanding their growth, and improving their market position.
Small and medium business owners can use e-commerce platforms to reach a wider spectrum of customers, gain access to larger marketplaces, and stay competitive as they extend their global sales.