Market research is the key to capturing your customers' hearts, so it's crucial to do it right by addressing core market research challenges with simple solutions.
We all know that market research could be overwhelming in today's landscape where we have millions of people to target. Right from delivering rightful and faster insights to developing strategies, the market research and researcher roles have evolved.
With evolution, the challenges of getting accurate and reliable information are also increasing. Conducting precise market research might not bring the results that can transform your sales.
Then where is your research going wrong? What challenges are you facing and how can you deal with those? Worry not because you are in the right place. Getting more insights can be challenging, so you must consider outsourcing a market research development company. 
In this blog, we will shed light on the core challenges of market research and provide simple market research software solutions to help you overcome them effortlessly.
To know about what Market Research is, Read our blog- The Fundamentals of Market Research.
Potential Market Research Challenges with Tech-led Solutions
Below are potential challenges that might impact your business decisions. 
Challenge 1- Market Uncertainty leads to inaccurate Business Decisions
Market uncertainty simply means that you are not certain about the targeted market or do not have accurate information about the latest trends in the market.
With the pandemic hit, this uncertainty reaches its peak, all supply chains were disrupted, and business workflow had gone under a drastic change, creating chaos, and leaving the market with great uncertainty.
With time this challenge will keep on increasing at an alarming rate. The probable reason is the consistent change in customer behavior, changing market trends, increase in global data to consider, and increase in the number of customers spending time online. Such factors might not be in favor of gathering accurate information.
One of the most known examples of market uncertainty is Brexit, causing national income to fall by 3.6 percent within 2 years. This uncertainty disrupted the market and businesses were not able to make informed decisions.
Another major business failure due to market uncertainty was Nokia. Nokia failed to keep up with the market's newest trends of the time while competitors took leverage. Back in 2007, Nokia was the biggest phone seller in the world, while Apple was just starting. But within six years, Nokia's value dropped by 90%, while Apple became a global leader.
So how could you come over with market uncertainty?
Solution 1- Leveraging AI solutions and tools
To control this uncertainty businesses need tools that help businesses in getting real-time data and updates of the market to understand the outcomes better. In simple words, businesses should be able to extract meaningful and accurate insights without being impacted by market uncertainty. 
Leveraging modern-age technologies like AI (Artificial Intelligence) can help businesses get real-time data and many more benefits.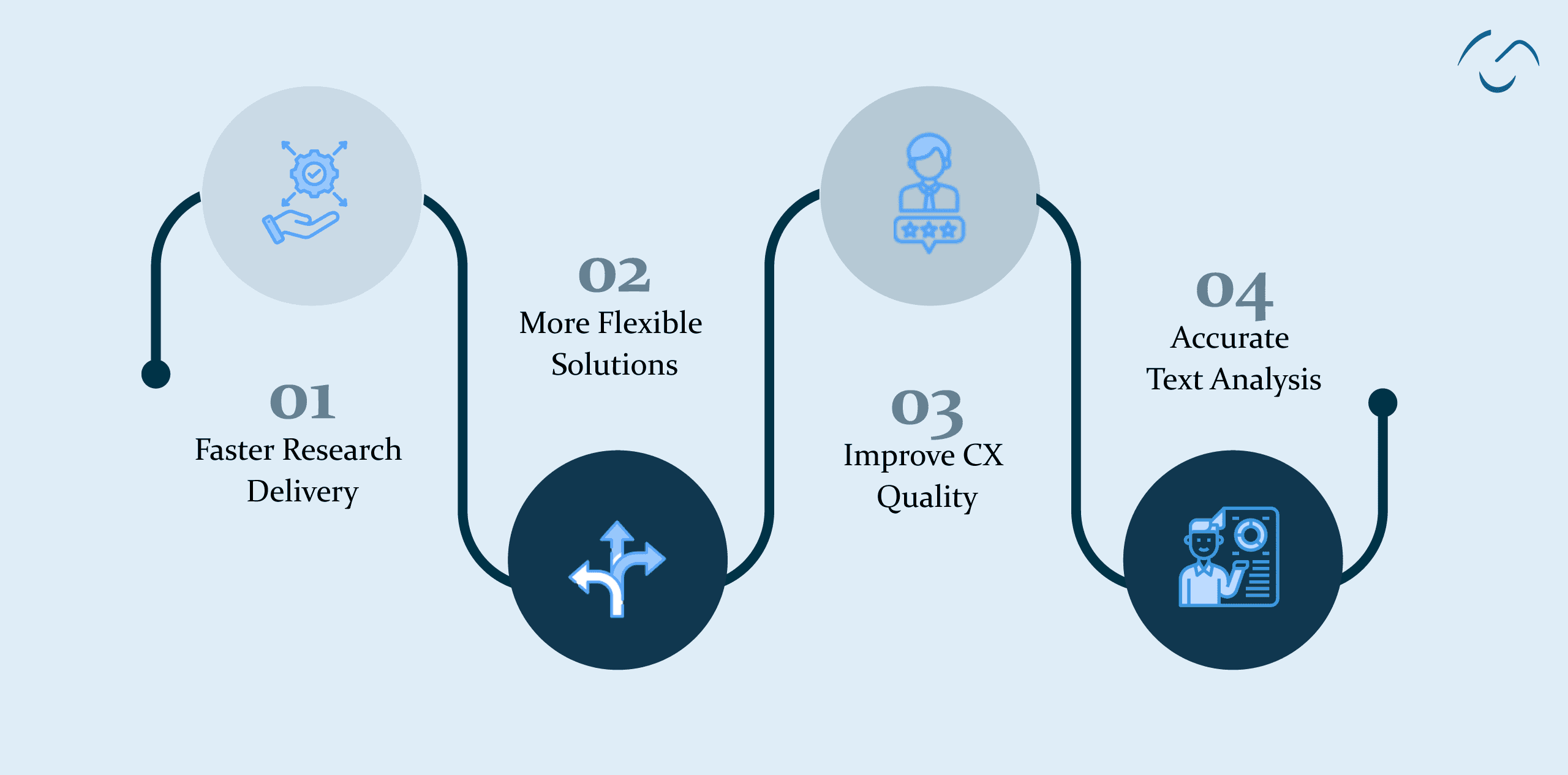 Today, businesses can find several OpenAI-powered tools to make market research much better and faster.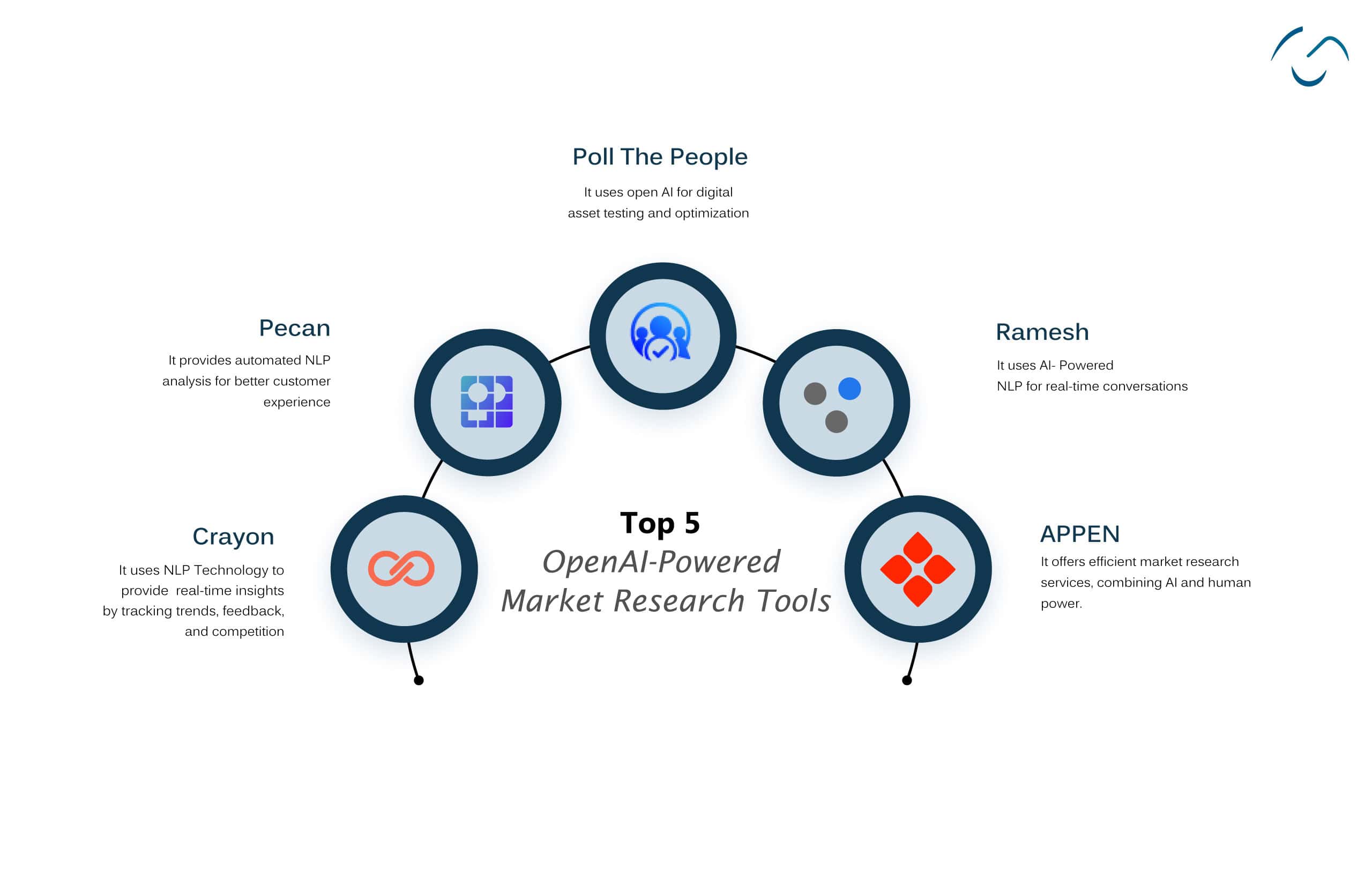 Solution 2- Automation Crucial Tasks
Keep an eye on the processes and tasks that are time-consuming that can often lead to human errors. If possible, automating those tasks can help a lot and provide more accurate results. 
So, market research can also benefit from automation. One way is by using robots to test how effective advertising is.
Companies want to know certain things about their advertising campaigns before they launch (like if the message and execution are good), while they are running (to see how the target audience is responding), and after they finish (to see the return on investment).
Automation makes this kind of research more accurate, faster, and cost-effective for companies. It also makes ad testing easier to understand and allows human researchers to spend more time analyzing the results and providing valuable insights that companies want.
Solution 3- Upskilling Your Workforce
It's important to prepare your employees for using new tools like analytics, AI, and other advanced technologies. Begin training them now, so you can make the most of the technology once you have it. Instead of following the traditional approach of "build it and they will come," take a more proactive and employee-centered approach.
As the leader of the company, you should establish the overall direction and goals for training. Provide your employees with the time, tools, and resources they need to learn and apply new skills. From there, let your employees take the lead in their upskilling by being innovative, building, sharing, and testing out solutions.
Challenge 2-
Poor Quality Data leads to Vague Insights
Gathering information does not make any sense if it is useful for businesses in any aspect. You must ensure that the gathered information is accurate. People do not understand how poor-quality information can impact a business's reputation. It can lead to poor customer relations, vague analytics, and poor decisions, impacting overall business performance.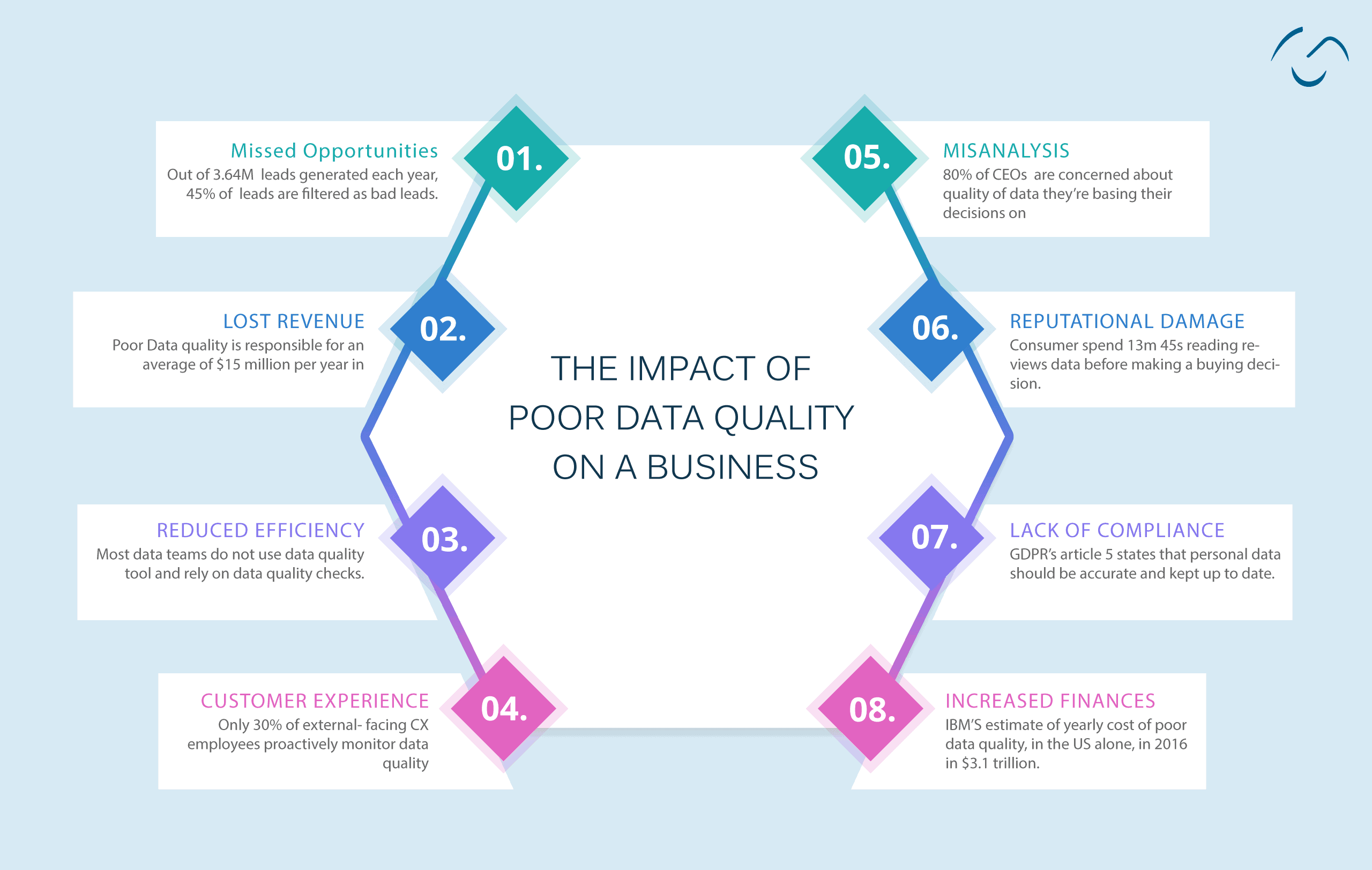 As per a study, out of the 3.6 M leads, 45 percent are bad leads due to the duplicate data recorded, failed email verifications, and missing data. Resulting in missing potential business opportunities. The business's failure to identify potential prospects' low-quality data also weakens the business's ability to curate proper product development strategy as per changing business needs. This gives competitive benefits to your competitors. 
Another potential damage that a business gets due to poor data quality.
So how do they get accurate insightful information and use it for decision making? 
To overcome such challenges, businesses must adopt the latest and technology-driven analytics tools that break the siloed processes. Below are some possible solutions to improve data quality.
Solution 1- Checking data quality with Fraud Detection Techniques
Businesses gather a lot of responses from global respondents who attend the surveys. But do they always provide the right information? Or how could you identify if they are human and not bots?
Thus it is necessary to quality-check your responses with powerful fraud detection techniques integration. Some techniques like- address verification, mobile verification, red herring questions, open/close-ended questions, GEO IP, fingerprinting, and other methods.
To know more about how can you keep your research safe, read Safeguard Market Research: The Ultimate Guide to Fraud Detection
Solution 2- Integrate trusted Survey Panels
Businesses cannot always find genuine respondents to attend the surveys. To ensure this, businesses can leverage trusted survey panels that have pre-screened respondents with complete pre-screening, ensuring relevant information for your research.
You can do it using our survey panels, gathering genuine responses worldwide.
Solution 3- Project Management Tools with proven statistical analytical tools
Another potential solution is the adoption of the proper platform that helps manage market research projects for better and high-quality insights. Combining qual and quantitative capabilities and datasets in a single platform helps businesses to find more holistic insights seamlessly. Having a platform integrated with modern tech can capture data from multiple sources and provide high-quality insights.
Also, businesses can include statistical analytics tools to get meaningful information.
Thus, businesses must have the right platform to manage projects and gather data.
We can help you develop customized and pre-built project management tools to elevate your research capabilities in improving the quality of data. 
Challenge 3-
Getting Leaders to Invest
Today, conducting market research has become a staple for every business. Getting the right data from genuine sources, helps researchers get accurate insights, leaders can form their decisions, and product developers can develop solutions to business problems.
But what if the investor does not want to spend on your research project? Your project might fail due to the lack of investment you need.
As per a study, one of the significant reasons that startup fails are.
Leaders think about why to spend money on purpose if they do not see any outcome. What leads them to pull back the investment?
Proof of success is missing

Not having a solid business or research proposal

Not understanding the market

Lack of marketing strategy
This is the same thing that happened with Kodak: Ignoring Market Trends where the company failed to identify current trends among customers and anyway invested. This is why it's hard to convince leaders to invest. 
So how can you eliminate these challenges? Let's see.
Solution 1- Clarify the Research Outcome
Make sure to clarify the potential impact of conducting market research on business decisions and their outcome. For that, you need role-based dashboards to provide a high-level view of how various market research projects have impacted business outcomes.
With our Project management tool, you can pull reports and see real-time updates on each project.
Solution 2- Have a Better Understanding of Customers
You can also run product research by creating surveys to find out which features are likable to customers. You can gather insights and share them with the team to make necessary changes. 
After you have accurate information about what changes to implement, you can convince leaders to invest in making those changes and implement them across channels for better results and ROI.
Challenge 4-
Not Targeting the Right Respondent
Trying to please everyone is one of the biggest mistakes a business can make. Most products often solve specific problems for specific groups of people. Everyone is not interested in Air Jordans, bacon-flavored soda, or organic soap made from peanut butter. That's why it's important to focus on the right target market to make the most of your advertising budget and attract customers naturally.
If you don't understand what your target market wants, values, and prefers, it can lead to consequences. Analyzing the target market helps you learn about your customers, so you can choose the right advertising platforms, products, services, and messages that will encourage potential customers to take action.
According to the Zendesk Customer Experience Trends Report 2022, 68 percent of customers expect personalized experiences. If you do not understand your customer's needs, you will not be able to create a personalized experience for them.
Not only this but targeting the wrong target can also impact your business credibility. This is what happens with Arch Deluxe: McDonald's Market Research Disconnect where the brand overlooks the target market and ends up losing its investment.
Solution- Survey Panels
To overcome such challenges, businesses need a more effective approach that involves gathering information from diverse and validated perspectives. Only by doing so can we guarantee that the uncovered data comprehensively depicts the entire market.
They can integrate third-party suppliers via API or add manual trusted respondents to complete the surveys. We can help businesses with solutions like Survey panels with integrated supplies from genuine sources who can help you make informed decisions. 
Also for precise targeting of the market, you can set qualifications and quotas to find distinct sets of customers with different needs.
Challenge 5-
Dependency on third parties to drive projects are costly
Most companies delegate complex research work to third parties due to the lack of skill, expertise, and knowledge of the marketing and market. Relying on third parties has become costly and limited. Businesses could not find more opportunities and find more sustainable ways to do the same research. 
Many market research companies find it challenging to invest that much in driving their projects. This extra cost can pose a huge challenge for startups. Costing is one of the top reasons why startups fail.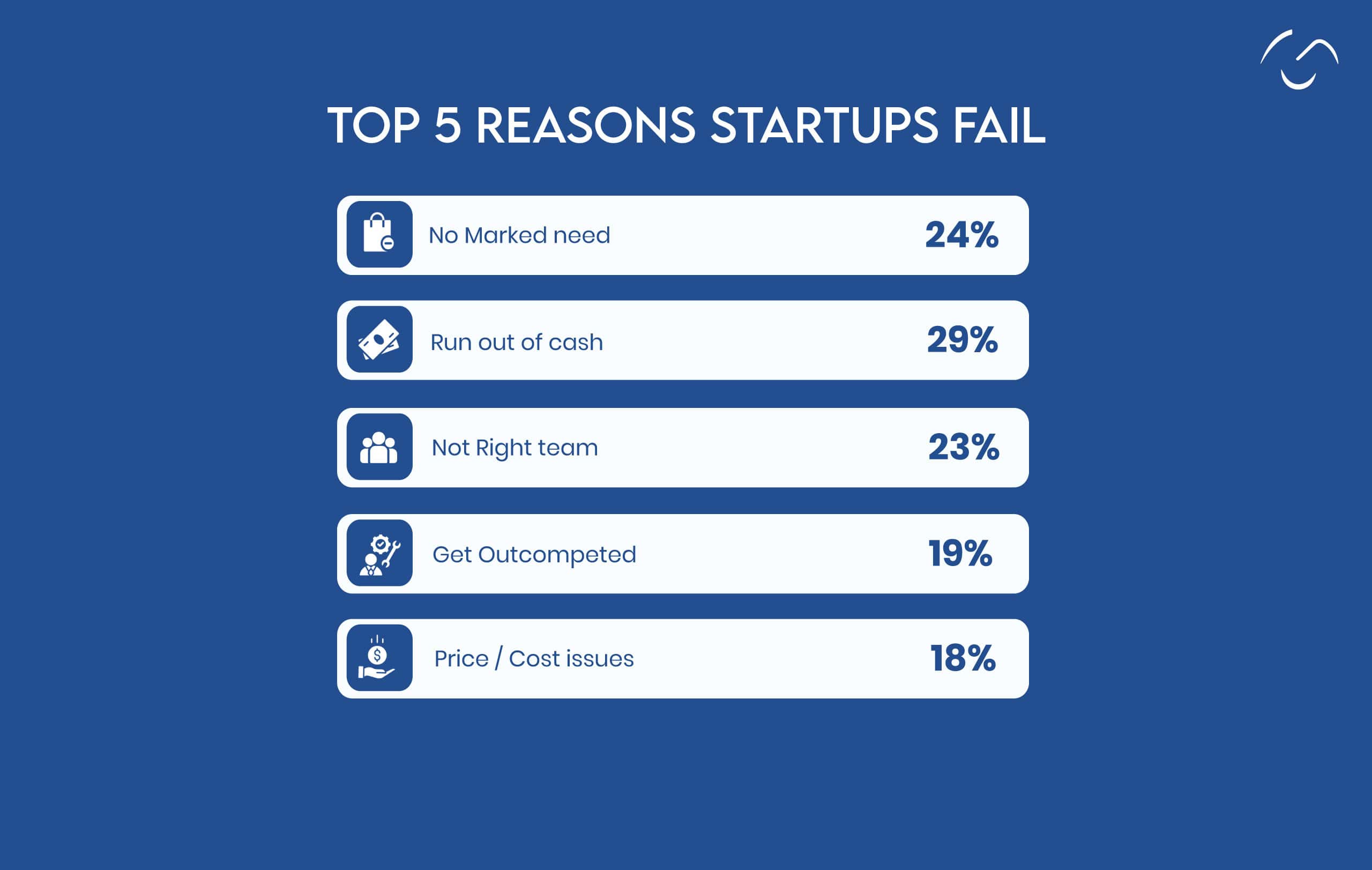 Solution- DIY Platform
DIY (Do-It-Yourself) platforms allow you to conduct or field market research projects. These platforms provide tools and resources that enable individuals or businesses to design, execute, and analyze market research studies on their own.
To know how DIY platforms are transforming the market research industry, read our blog- Top Technology Trends for Market Research in 2023
More than 50 percent of companies that have utilized do-it-yourself (DIY) market research have witnessed exceptional financial growth. Furthermore, nearly half of market research experts are conducting a greater amount of DIY research now compared to six years ago.
Not only this, 70 percent of companies would like to transition to DIY tools for better results while keeping the budget in place.
Solve Market Research Challenges with OnGraph
OnGraph emerges as a reliable solution for overcoming the challenges faced by market research app software services companies. By addressing issues such as sample representativeness and the verification of data sources, OnGraph ensures that valuable insights are derived from a diverse range of validated viewpoints. 
With its commitment, OnGraph (market research app software services solutions) provides businesses with the necessary tools to make informed decisions and stay ahead in today's dynamic marketplace.
If have some cross any major Market Research challenge we must highlight then drop us comments. Thanks for being an avid reader.