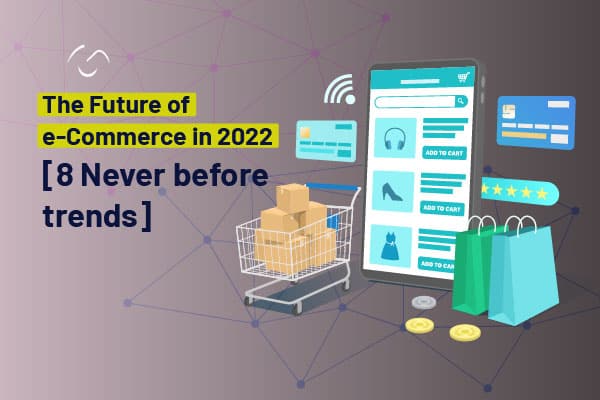 With multi-lingual, multi-currency support given by businesses, global eCommerce trends have been shifting from local sales to borderless commerce. The worldwide expansion of eCommerce, which is anticipated to reach 21.8% by 2024, offers enormous possibilities for eCommerce store owners to explore cross-border trade and business, as well as international online retail.
The eCommerce industry is expected to benefit the most from the coronavirus epidemic, according to experts. Penetration rates are anticipated to rise from 15% presently to 25% by 2025 (MarketWatch, 2020). That's a growth rate of 67% in five years.
Preparing for the Future of eCommerce in 2022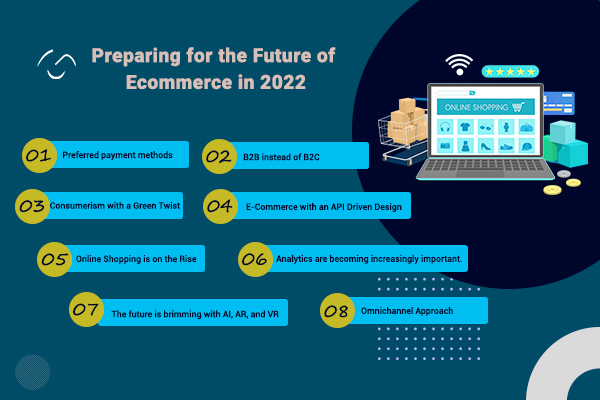 eCommerce Trends in 2022
Given the numerous possibilities, it's likely that eCommerce will change significantly in the next few years across the world. Here are a few exciting eCommerce trends to get you started:
1. Preferred payment methods
In the coming year, eCommerce payment habits will change. By the end of 2025, it is anticipated that cryptocurrency market revenues will reach $60 billion, which might set a trend. Payments will happen directly between the buyer and the seller instead of via payment getaways in contrast to current conditions. This will also minimize eCommerce frauds and intermediary fees.
Add extra BTC support as a company owner to allow customers to conduct transactions in bitcoin, which will become a cheaper, more convenient, and secure payment solution for internet retailers.
2. B2B instead of B2C
Predictions say that B2B firms will reach $6.6 trillion in sales by the end of 2021. This increasing trend, driven by SaaS and technology companies, helps to smooth out operations while also boosting profits for businesses. So if you're into B2B business, get ready to handle bigger purchases and volume-based discounts, as well as simplify reorder management
3. Consumerism with a Green Twist
Poor environmental records have an influence on customers' online purchasing decisions, according to a recent GlobalWebIndex study. This emphasizes the need for firms to implement more sustainable practices such as buying from fair-trade suppliers in order to create a greener eCommerce environment. As a result of this changing attitude among customers who are more concerned about the environmental effects of your company, it may be prudent to adjust.
4. eCommerce with an API-Driven Design
The use of Headless Commerce is another emerging practice that has the potential to significantly impact eCommerce in the future. The adoption of Headless Commerce is a trend that may have a significant influence on eCommerce in the future.
If you want to keep up with the latest fashions, headless is a good choice since it allows you to customize your backend, SEO, content marketing, and digital experience features.
5. Online Shopping is on the Rise
Mobile devices are more appealing to customers, such as millennials and Generation Z consumers, because of their simplicity. According to Payvision, the figures for this are anticipated to rise 18.8 percent this year before rising further to $3.79 trillion in 2022. As a result, you should enhance your online store's mobile purchasing experience in order to keep up with the competition and reap the rewards. Make sure your business is mobile-friendly by optimizing its mobile response time and other factors.
6. Analytics are becoming increasingly important
According to Deloitte, 49% of respondents believe that analytics aids them in making good judgments, while 16% feel that it helps them better enable major strategic objectives. Analytics has long been a trend because it concentrates on consumer behavior and conversion directly. Analytics are numerical measurements used to develop eCommerce traffic solutions and growth.
The best way to determine which channel is the most effective for leading customers to your store is by concentrating on factors like campaign click-through rates and conversion counts. As a result, deploying analytics in order to provide useful reports will always be worthwhile, even if it does not result in immediate success. 
7. The future is brimming with AI, AR, and VR
According to Statista, the AR commercial market is anticipated to reach $15.497 million in 2022 and surpass $18 million by 2023. eCommerce organizations are enthusiastically diving into the world of Augmented Reality and Virtual Reality to create social media censors, preview layouts, virtual trial rooms, and interactive user manuals.
These efforts to embrace deep technology encourage customers to have more customized experiences by allowing them to try the product as if in a physical shop. If you operate in the fashion, cosmetics, or accessory sectors and need technology that can help you provide a personalized experience while influencing consumer purchasing decisions, this is your sign to get started.
8. Omnichannel Approach
Customers prefer to look at store content in many ways, therefore companies must come up with new techniques to sell their products.
An omnichannel strategy is a multichannel approach that strives to provide the best customer experience possible, whether on a mobile device, a desktop computer, or in a physical store. Business owners may attract consumers via both an offline and online presence, unifying brand experiences, thanks to omnichannel. You can also use an omnichannel strategy to improve client service and communication with customers across several channels by adopting one.
Conclusion
To remain competitive, e-commerce firms must keep an eye on the industry's evolving patterns. Be prepared to follow the changing trends so that you may take advantage of the fantastic prospects in the eCommerce environment in 2022 and beyond.