There is a list of around a hundred essential things that you have to take care of while running a successful E-commerce platform. Searching for the best E-commerce platform for your business is one of the biggest decisions that's going to have a long-term effect on your venture going forward. Choosing the perfect platform depends upon various factors such as popularity, overall reputation, features, customer service, pricing, and ease of use. Let's start!
When you search through Google for the best E-commerce development solution, you find Shopify vs Woocommerce on the top. These two popular E-commerce platforms have their communities and devoted users and call themselves the best E-commerce platform in the market … but that's just how things are, I guess.
While Shopify is probably the first name most people think of when they hear E-commerce, Woocommerce is also not far behind. Both the platforms have their pros and cons, that makes it difficult to choose one for your E-commerce store. To help you choose the solution that's right for your store, we'll spend this post digging into each platform and comparing and contrasting the two so you can be confident when you make your final decision.
What is Shopify?
Shopify is not an open-source platform but it caters to a range of different needs of your business by offering a variety of features. Shopify was launched in 2004 which makes it little older than Woocommerce. The platform has more than 1 million merchants from all over the globe. It is well known for its up-to-date features and regular updates. Shopify platform particularly caters to beginners with no technical background and helps them to build an online store from scratch. 
You can customize your Shopify store at any time but you might need professional assistance for that. Shopify is a hosted platform, therefore, it hosts and manages the software for you. Though you do have a lot of flexibility, you're limited to only making the changes that Shopify allows you to make. 
Shopify is a highly intuitive platform and is considered the benchmark to all other platforms in the E-commerce industry.   
What is Woocommerce?
Launched in 2011, Woocommerce is an open-source plugin that turns your WordPress application into a fully functioning E-commerce store. To build your Woocommerce platform, all you have to do is install the Woocommerce plugin on your WordPress and your store will be up and running. This platform has quickly gained popularity within the E-commerce industry and today it is the most popular E-commerce solution around with more than 3.8 million users. Woocommerce gained popularity for its user-friendliness, powerful features, and unlimited customization options. The most important feature is it allows you to use the most popular CMS in the world, WordPress, to run your online business. It is a self-hosted platform which means your store's files are located on your own server and you are free to modify everything on your store as you see want.
Shopify vs Woocommerce: Pros and Cons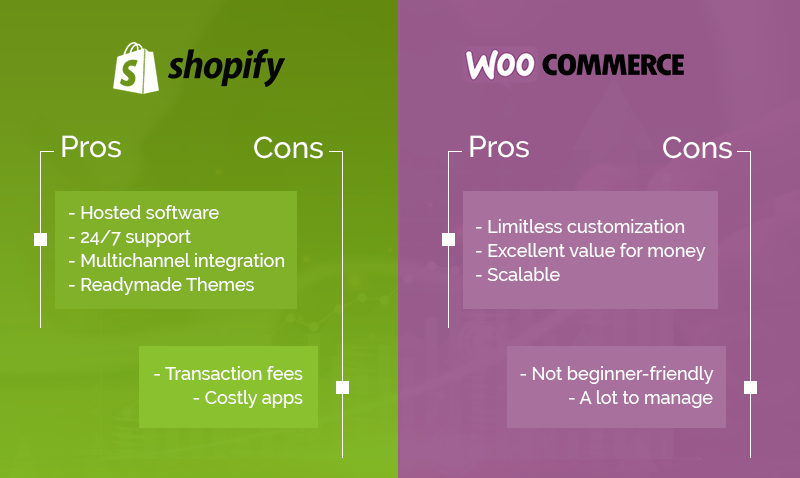 Shopify Pros
Hosted software-

Shopify includes hosting and security, plus you don't need to use any code to build a brilliant online store

24/7 support-

Your business issues are resolved around the clock to keep your customers and sales figures happy

Multichannel integration-

Sell on other channels like Amazon, Facebook, eBay and Pinterest as a built-in feature

Readymade Themes-

Shopify themes are beautiful and plentiful to give your store professional feel and look.

Easy and Quick-

It takes just a few minutes to launch your store on Shopify platform.
Shopify Cons
Transaction fees-

Shopify is the only platform to enforce its own transaction fee unless you use its own gateway, Shopify Payments

Costly apps-

It's easy to rack up an expensive yearly bill for your apps
Woocommerce pros
Limitless customization-

As an open-source platform, you can use code to customize your store as you want.

Scalable-

WooCommerce and its fantastic flexibility allow you to achieve your E-commerce dreams

Excellent value for money-

It's free to install, plus the extensions are mostly reasonably priced, helping you add greater functionality to your store at a low cost
Woocommerce cons
Not beginner-friendly-

Unless you have some coding knowledge, you'll struggle to build the online store you want on WooCommerce, unlike on Shopify

A lot to manage-

You're stuck managing everything from hosting to security, and maintenance to backups.
Shopify vs Woocommerce: Which platform will best suit your E-commerce business
1.Build time- If you are planning to build your E-commerce platform in no time then Shopify will get your store live quicker than Woocommerce. Shopify is the best option for the stores starting from scratch or having limited technical skills. Unlike other E-commerce platforms, Shopify provides everything you need in one place. 
Woocommerce is best suited to the users that are in no hurry to gain masses of sales immediately. Building a store on this platform is more of a creative project than it is on Shopify. You will need to put a lot of creative control to make the site truly your own. 
Shopify is highly-recommended if you are starting out selling online and want to build your online presence quickly. Key features of Shopify are in-built, it is easy to use, and its themes just need to be populated with your content. All-in-all, the set-up time with Shopify is a lot quicker than WooCommerce if you're building an online store from scratch.
2. Design and themes- The stylish themes of both Shopify and Woocommerce make your online store look like a pro. Shopify has over 100 free and paid themes for you in its store. These themes are well polished. As Shopify is a dedicated E-commerce platform, its themes are designed to help you sell. While premium themes of Shopify are quite expensive, it's a one-time payment that you should see as an investment in your store. 
On the other side, Woocommerce design depends on the hours you put in as well as your technical skills. WooCommerce does not have its own theme store. However, you can choose great themes from various websites. It is important that you choose a lightweight responsive theme so that your visitors can have a smooth experience no matter what device they use to access your store.
3. Easy to use- As an online store owner, you need an E-commerce platform that maintains and manages your essential business-related tasks like customer feedback, processing orders, replying to customer queries, and dealing with vendors. As Shopify is a hosted E-commerce platform, it takes care of everything from domain name to security certificates. Therefore, you don't need to install, manage or update any software.
Woocommerce is a technical platform that requires a certain level of coding skills. In contrast, Shopify is easy to access and you don't need a proper technical background to get the most out of it.
4. Cost comparison- Since Woocommerce is free, it is cheaper while Shopify offers plans ranging from $9 to $299 per month and takes between 0.5 and 2% commission on your sales. Though Woocommerce is free, you will have to pay for hosting plans, and the plugins and themes. This will cost you a lot to launch a Woocommerce platform and it will only increase when you need a bigger hosting plan or new addons and plugins. 
If you choose Shopify, you don't have to worry about the cost of add-ons. Each pricing plan of Shopify caters to a different objective. You can customize your Shopify theme at any time you want. 
5. Scalability comparison- Scalability is one of the most important factors to consider while building an E-commerce website because as your business grows, you will have a larger number of orders to process and if your E-commerce platform is not prepared to handle that, your business will be in trouble. The scalability of your Woocommerce platform depends on the hosting provider which means your WooCommerce store is as powerful as your hosting provider. 
As Shopify is a hosted platform, it takes care of most of the technical stuff. The architecture of Shopify contains the power of handling bigger stores and larger numbers of orders and visitors. You can switch to the bigger plan when you want to grow your business. Though Shopify is an expensive E-commerce platform, it is a single-stop solution for your store.
6. Official support and assistance- While both Shopify and Woocommerce are easy to use, there are times when you might need outside assistance to make changes or add something new in your platform. Woocommerce is an open-source plugin that is managed by a hosting provider. Your hosting provider will probably offer 24/7 support via live chat, calls and ticketing system.
In comparison, Shopify takes care of the support of your store. It provides your business with 24/7 support through live chat, calls, and emails. You can also contact them on social media if you want urgent support. Apart from that, you can hire a Shopify expert to assist you with setting up your store.
7. Security- High-level security is a priority of any online store. Because Shopify is a hosted platform, it takes care of all the security breaches and protects the website from hackers. The security of the Woocommerce platform, on the other hand, needs to be protected either by you or your hosting provider. 
Shopify vs Woocommerce: Comparison
Factors
Shopify
Woocommerce

Number of users

Over 1 million

Over 3 million

Number of themes

100 (free and paid)

Unlimited (free and paid)

Time

Faster

Takes time

Mobile version

Yes

Depends on the theme

Email newsletters

Yes

Yes, but with a plugin

HTML compatibility

Yes

Yes

Help and Support

Very active community

(forums & blogs),

variable support from

themes & plugins editors 

Phone, chat, email,

documentation, forum

SEO

Yes

Yes

Product Editor

WordPress-type editor

WordPress Editor/Blocks

Storage space

Unlimited

Depends on server size

Payment gateways

Yes

Yes

Offline payments tracking

Yes

Yes

Inventory management

Yes

Yes

Trial versions

14-day trial (w/o credit card)

No

Sales commision

No

From 0.5% to 2%

Paid offers 

Shopify has subscription plans

Woocommerce is a free plugin

Catalog size

Yes

Yes

Blog

Yes, but limited

Yes
Shopify vs Woocommerce: Final thoughts
Comparisons like this never come to an end. Your decision will always fluctuate depending on the specific needs and requirements of your E-commerce business. The following are the key points between Shopify vs Woocommerce to help you choose one. A quick recap of the comparison:
Choose Shopify if: 
You want 24/ support and assistance.

Security of your online store is important to you. 

You want to build your website in a short period with no or limited technical skills.

You want in-built themes and designs that are easy to customize.
Choose Woocommerce if:
You want to set up a project that requires lots of personalization and there's no hurry.

You want to build a large-scale online store selling in numerous regions

You are technically competent and want greater control over your site's design and hosting. 
Take your time and test both the platforms before you get started.