Whether it's a food, package/courier, eCommerce, or any kind of delivery services, the demand has exponentially increased in such a little time. Amidst the Coronavirus pandemic, the delivery services are among the very few businesses that have managed to stand strong. As per the WHO, the COVID-19 is going to chase the human race for quite a long time to come. And because of this, the home deliveries have become a necessity for people around the world. Consumers want accurate and instant deliveries at their doorstep. And this has given rise to the route planner apps in delivery businesses.
Companies today are setting out to deliver the shipments efficiently and faster by the use of route planner applications. With the emergence of Google Maps and Apple Maps in the market, the trends of route optimization software and route planner app developments are rising.
The online Uber for delivery kind has provided businesses an opportunity to activate and agile their delivery movements. As per Market Watch, by the end of 2026, the global last-mile delivery market is estimated to reach US$ 66000 million.
With such trending innovations all around us, there are also extreme challenges such as the Coronavirus pandemic faced by the humankind. As we all are becoming habitual to the practice of social distancing, the online delivery business is expanding at an fastening pace. Here, we will discuss the importance of route planner apps for delivery businesses and how they can prove to be beneficial to people in such a critical time.
Benefits Of Route Planner App
There are a number of ways in which your delivery business can benefit a lot from the route planner app development. 
Optimizationand automation of delivery routes for delivery drivers
The route optimization app will help in tracking routes automatically for delivery drivers as well as sales representatives. It also helps in preventing unpaid deliveries to 'stop service' requests. When it comes to delivery business, one can smoothly decide the dispatch procedure well in advance. As a result of this, the sales cost is going to decrease. This will help to serve more customers in less time, as you can schedule, map, and route the delivery team well in advance. In case you wish to modify the planned route, it can easily be fixed and scheduled quickly.
As per the Road Weather Management Program, bad weather leads to about 22% of vehicle crashes. By properly monitoring and studying the route maps using the route planner apps, such mishaps can be controlled beforehand.
Multiple destination route planner helps to serve all the required delivery details
Real-time tracking of driver's movement and live vehicle tracking with other functionalities such as necessary information, which include sale instructions, delivery date and time, location information, and contact details of the customers. Such kind of accurate driving directions will lead to reduction in route planning stress and scheduling locations will be facilitated.
Improves the performance and productivity of driver
Drivers who are unable to manage their time well, take up unnecessarily long breaks or do not follow the route plan. This can cost a lot of money for the business in needless fuel and also missed meetings.
With the help of route optimization apps, unproductive drivers as well as potential loss in revenue can be easily analyzed before becoming a major trouble. A number of  companies are using route optimization apps these days to make their fleets more efficient as well as beneficial. It is a very robust tool having a number of benefits linked to it. It helps in making quicker deliveries and completing the goals properly in the shortest amount of time as well as with the lowest costs.
Features to be Integrated into a Route Planner App
Route planner apps can help to provide multiple features to end-users. Below, we have compiled some amazing features that your route planning app should offer:
Unlimited Route Plans with Unlimited Stops
Irrespective of how much planning and scheduling one does in advance, it takes over 30 seconds in optimizing the roads, mapping them, with the use of pen and paper. With an online version that provides you with no search limit, ability to examine accidents, hazards, potholes on the route, and unlimited optimized routes, one can save a lot of time and eventually will be able to look after some other business ideas or expansion scenarios.
Such a smart update will help the drivers to look after their duty routes easily with no further complaints regarding road directions and locations not found. When it comes to business, one would be able to make more profits by delivering more items in one day than usual.
Hands-Free and Voice-Guided Navigation
It is quite obvious that checking the phone every now and then is quite risky and shouldn't be done while driving. It can lead to major accidents and injuries. This is the reason why your route planner apps must include a voice-guided navigation feature to help the driver navigate safely.
Hands-free navigation can help the driver to completely focus on the front while carefully listening to the directions. Ensure that the app also provides proper turn directions and also weather and accident alerts.
Direct Upload of Delivery Information Spreadsheet in the App
When talking about a delivery business, the very first thing that comes to mind is the delivery information. While planning an app with multiple stops, it is important to have accurate information at the disposal. Thus, it is essential to integrate the 'upload spreadsheet' option in the app for direct access from it.
When you are done with such integration, search the drivers and the businesses can appear on the same page and can cross-examine the data, ratings, reviews all at one place via the app. This will improve the sync between the owner and the team members.
Apps with GPS and navigation features must also include options to save favorite routes, places that one can share with their family and friends easily. Such distinctive features will help your app to become the finest delivery route planner app.
When everything is planned perfectly, there's always a chance that something or the other might go off the road. For instance, you might need to change the route in case of the hotel no longer being there, or in case of a client canceling the meeting. Thus, it is imperative to provide an option to let the user edit, cancel, or postpone their trips.
Track Progress of Delivery Stops
A delivery business is required to keep a track of everyone as well as everything from the very start. It is important to know the whereabouts of a parcel and total deliveries conducted in a day. One can track their orders via GPS map locators and optimized route settings. This way, the faults of the drivers or the system are easily met and can also be eliminated in real-time.
Round Trip Option to Create a Closed-Loop
Opting for a round trip feature helps to save money and fuel prices. This will let the delivery agent take up any deliveries coming on his way back to the office or his home. This helps to curb fuel prices and makes smooth completion of the tasks in a single day. For smooth functioning of this feature, you will be required to work on your user interface to get the most out of it.
Top Five Route Planner App Developments
Multi-Stop Route Planner
Features:
Optimized routes with multiple stops
Save all essential and frequent locations in the application contact book
With the help of Google search, dropped pin, contacts or locations, routes can be customized on the map
Integration and navigation with the help of other apps such as Google Maps, Apple Maps, and Waze
Import route with a list of locations in XLS, XLSX and CSV file
Subscription:
Yearly subscription – $79.99 USD
Monthly subscription – $9.99 USD
Weekly subscription – $4.99 USD
Provides additional features such as unlimited Cloud Sync, unlimited Routes, add team members, import and export route locations.
Waze
Features:
Alerts or Push notifications regarding police, hazards, traffic, and more along the drive
Instant re-routing so as to avoid traffic and thus save time and fuel
Direct integration with podcasts, music apps, and more
Voice assistant such as Google Maps for better directional guidance
GPS navigation tracking to find the low-cost gas along the route
RoadWarrior Route Planner
Features:
Plan multiple destinations as per the deliveries
Navigation using Google Maps, Waze, and more
Direct upload of a spreadsheet that consist of the delivery details
Integration of availability windows make online customers sure about the arrival of the driver or delivery hours
Track progress by examining locations
Subscription:
Monthly subscription – $10 USD
Yearly subscription – $100 USD
Provides additional features such as higher daily search limits, web tools for spreadsheet uploading, and ability to optimize routes with more stops.
Route4Me Route Planner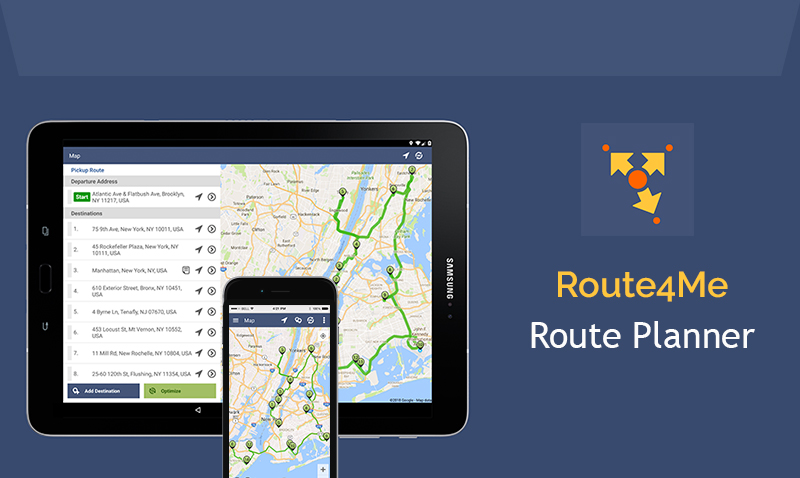 Features:
Option to select & stop the start and end of the route
Voice-guided turn-by-turn direction
Store address book and other information of clients in the app
Estimate driving time as well as route distance
Subscription:
Yearly subscription – $79 USD
Monthly subscription – $10 USD
Provides additional features such as unlimited stops and unlimited routes.
Badger Map Route Planner Sales
Features:
Examines real-time traffic data and distance so as to provide the most efficient routes to the representatives
Visualization of customers as well as prospects on an interactive map
Creation of account anywhere with a tap on the map
Subscription:
Monthly subscription for businesses – $59 USD
Monthly subscription for enterprises – $105 USD
Tips To Grow Your Delivery Business During Coronavirus Pandemic
There must be no contact between the delivery drivers and the customers. The hand to hand transmission of the virus can be prevented by the dropping off the package at the door by the driver.
Proper Sanitation and Protection:
Ensuring that your packages are protected is a great way to boost sales. The delivery personnel as well as the customer must wear masks gloves while dropping the package and making payment for the same.
You can make the business a lot safer by adding an option for digital or online payments in your delivery app. This further diminishes any contact between the delivery personnel and the customer.
Cost Estimation to Build a Delivery App For a Startup in 2020
The cost depends on the following factors:
Platform one wishes to develop the app for – iOS, Android, or both
Features one want to include in the app
The hourly rate of the developer
Below is a simple formula to calculate the cost of delivery app:
Estimated Development Hours * Developer's Hourly Cost = Total Mobile App Development Cost
In general, it takes about 150 hours to develop a delivery app. If the hourly rate of the developer is $40, then the cost for app development becomes $6000. This is just about how much it would cost to build a delivery app in 2020.
Wrapping Up:
If you are also dealing in the delivery business, then it is imperative and helpful for you to explore the ways to enhance the efficiency of your routing and dispatch functions. The route planner apps performs an accurate route planning diagnosis, which helps in saving as well as business improvements for your business.
In case you have any confusion or query regarding the route planner app development or wish to build your own route planner apps, you can discuss your requirements with us via email. Our team will reach out to you very shortly driving your business with consumer satisfaction, digital accomplishments and profits.