E-Commerce is growing at an unprecedented rate across the world. According to the Statista report, E-commerce has set a sales target of $2.3 trillion in 2017 which is further expected to hit $4.5 trillion by the end of 2021.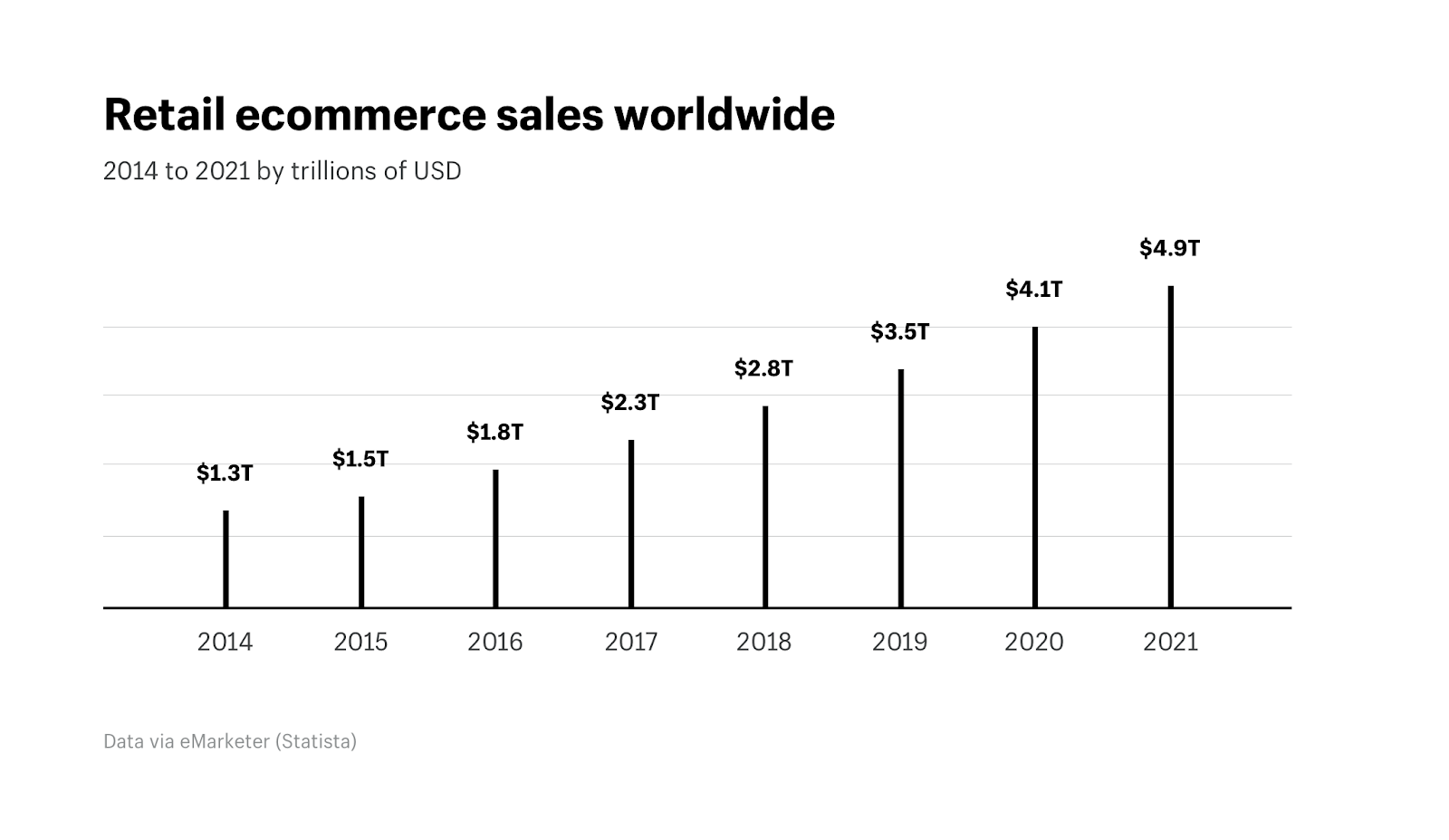 Ain't the growth of e-commerce is out of this world? Afterall why people are going crazy about online shopping?
It is all about the ease and convenience that online shopping delivers. While sitting on your couch you can explore zillions of products, buy as many items as you want by simply using your smartphones. 
The benefits of online shopping include:
Low priced products and services

Increased variety of products and services

Saves traveling and shopping time

Enormous research capabilities and the list goes on.
The number of global online shoppers is expected to reach 2.14 billion by 2021 due to the enormous benefits and technology-incorporations e-commerce is going to offer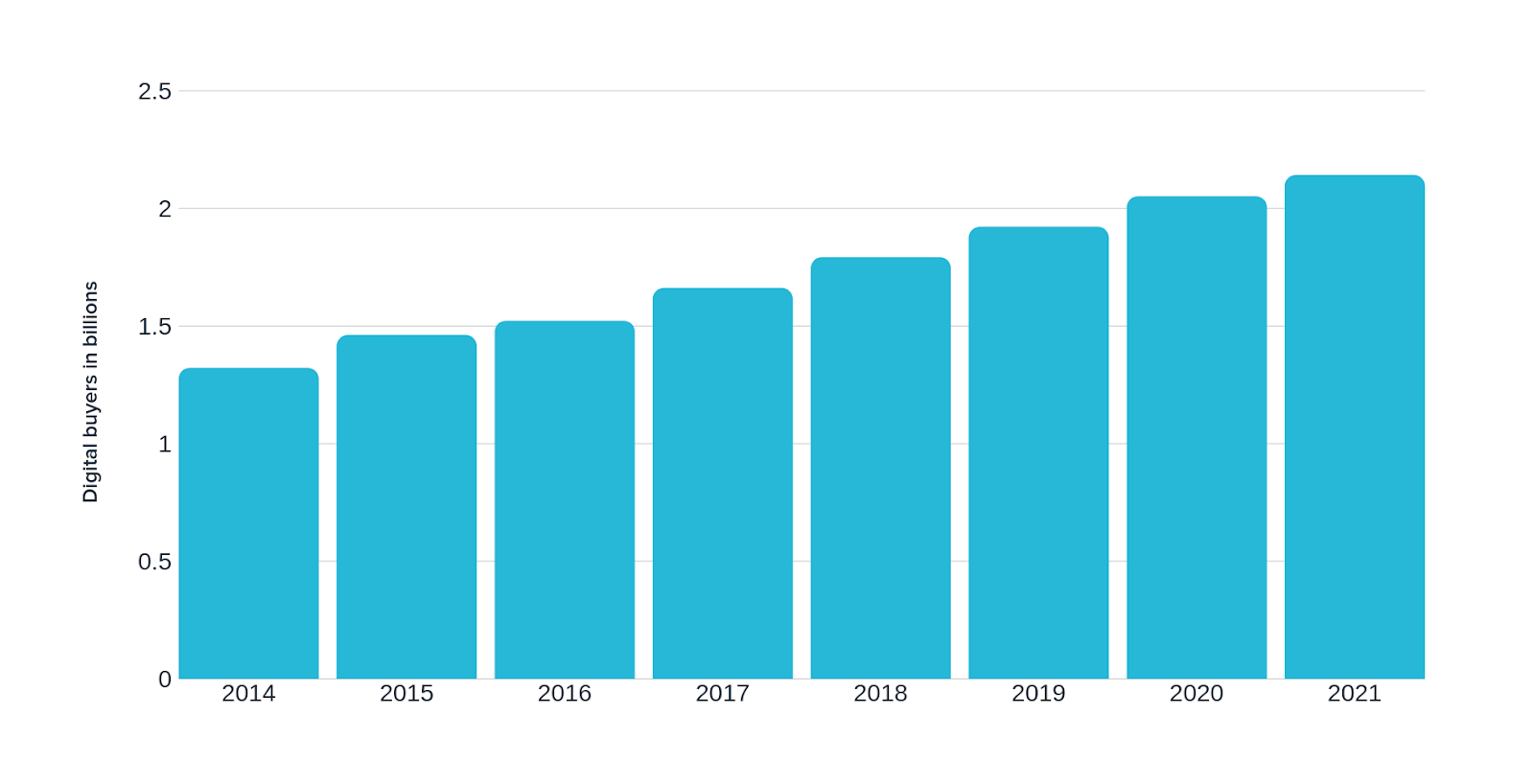 Despite having such a huge success rate of e-commerce, there are businesses that still prefer selling through offline stores. 
Although it is understood that the competition is going to get higher in the future, the benefits and opportunities for online businesses are seamless such as:
The cost of setting up an online business is extremely low as compared to expanding your business with brick and mortar methods. 

Very few license and permits are required to start an online business than setting up a physical store

Fewer resources are required to perform operations like managing inventory, billing customers, and more

Easily attract new customers with search engine visibility

Insights into consumers' buying habits

Earn more in less time using technology innovation
If the above numbers and benefits still seem unconvincing to you and you are still in doubt whether you should set-up an online business or not, let's understand about the future of e-commerce and how it is going to groom itself, even more, using advanced technologies to keep those numbers increasing. 
What is the role of Technology in Leveraging E-commerce Growth?
If you want to stay ahead in the competitive online market, you must focus on deploying some of the latest technologies such as augmented reality try-it-out tools, artificial intelligence-driven personalized experiences, and last-mile delivery innovations to make sure that your customers receive the best quality products and services possible. 
Social Commerce
Do you know there are around 500,000 businesses who make use of social media platforms like Instagram as an advertising platform?
Social platforms have now become the best place to recommend, buy and sell products and services. Although you can't say that they are entirely into a selling business, they definitely play a pivotal role in convincing the buyer to make a purchase. 
One of the best examples of how technology is closing the gap between social and shopping is of the latest app "Pinduoduo" released by China. An app that allows its users to share deals across their social networks and form groups to take advantage of various discounts.
You can also make use of e-commerce platforms like Shopify that offers an outstanding way to sell products and services on your company's Facebook page or Instagram's posts. These platforms are not only convenient for you but also for your customers as they can buy items in just a single click without leaving the social media app they are logged in.  
Artificial Intelligence
According to a recent study by Gartner, AI will manage 95% of customer interactions by 2025. The technology can be used for various purposes such as:
To stimulate conversations, analyze and predict the sales behavior

To gather humongous data of online shoppers such as consumer affinities, trends, and preferences

To build effective marketing strategies by segmenting the customer base as per their browsing behavior

To deliver personalize user experience 
Netflix, a video streaming service, has already started using the technology to predict what viewers would like to see through their browsing history and recent searches. 
Augmented and Virtual Reality
The estimated gargantuan cost of product returns in the US will increase to $550 billion by 2020 which is 75.2 percent more than the cost in 2016. However, to place a barrier on the product return costs, there are several AR/VR tools being introduced to allow shoppers to visualize the items exactly in a way as they look like in real life. Some of the big brands have already started using technology such as:
Google, has recently added 3D augmented models to its search results using which customers can check out the items regarding their appearance in the "real world" before they decide to buy. 
Ikea, an online furniture store that allows customers to visualize how the pieces of furniture will look like in your homes. 
Similarly, e-commerce brands that sell accessories and apparels can now deploy virtual mirrors to deliver a personalized experience to their customers before making a purchase. 
The ability to picture the item similar to what it looks like in real not just reduce return rates but also drives huge revenue for e-commerce brands.
Chatbots
A chatbot integration to your website not only act as a salesperson to resolve customer queries or work 24/7 to assist your customers but can also help you qualify leads and understand who you should be following up with. 
All you need to do is hire professional chatbot development companies which are capable of understanding your requirements of building AI-driven chatbots that can understand user requests made in conversational language and provide the relevant answer to your customers.
Last-Minute Delivery Technology
Customers need transparency in terms of placing their order, tracking their shipment in real-time, and while doing the transactions. 
Companies like ASOS have been providing frictionless services to their customers, and thus, have set bars for other small and mid-size businesses when it comes to free deliveries and returns of the purchased products. 
To fulfill the consumer demand and to smoothen your own supply chain management, it becomes a necessity for you, as an online business owner, to integrate the right technologies that can help you manage multi-warehouse, multi-carrier, multi-location, multi-store, and so on. 
From Buying to Selling
Unlike the previous method of selling and buying where the focus was on buyers as they raised more demand than sellers, a recent study shows that the sellers are 3.5 times more influential than buyers in driving the growth of e-commerce platforms. 
Technologies are no doubt creating an impact on e-commerce businesses giving sellers various opportunities and advantages. Certain e-commerce platforms such as BigCommerce and Shopify utilize innovative technologies to provide sellers greater transparency over various operations like marketing and logistics.  
Moreover, with various integrations and APIs, you get access to a wide range of platforms and services that not just help you to enhance your business but also help you to stay ahead in the competitive online market. 
Seamless Payment Processing 
If you are already running an online business, you might be knowing how frequently customers abandon their carts due to reasons like slow payment processing. 
Thanks to the technologies that are helping e-Commerce businesses to deliver a delightful customer experience.
Want to know how?
Unlike traditional payment processes where customers can buy items using their credit cards, debit cards, or in cash, alternative payment methods have been introduced such as pay later platforms, Buy Now, PayPal, Paytm, digital currencies using which customers can make international as well as local transactions easily. 
Omni-Channel Presence
Unlike traditional methods of shopping, modern shopping habits involve considerations from various platforms, seamless purchase options, and cross-channel research. 
Customers prefer unhindered interactions across multiple channels and platforms. Therefore, it becomes important for you to show your omnichannel presence. 
How could you do that?
Using the right technology could help you in knowing what customers want when they want, and where they want. To boost your online business and to provide an interconnected journey to your customers all the way through the purchase you must incorporate technologies such as:
Co-browsing: It is a visual engagement method using which you can keep a track of your customer activities on your website in real-time. This tool helps you to guide your customers through complex procedures.
Video Chatting: This tool allows you to interact with your customers face-to-face and accelerate the cross-channel, personalized and consultation experience.  
Document Interaction: This tool helps you to interact with your customers' documents safely. It also includes e-signature tools to provide enhanced security. 
Screen Sharing: Screen sharing allows you to look at your customers' screen effortlessly to sort out customers' queries and completing their transactions.  
Just a Suggestion!
Until now, you must have understood the role of technology in the E-commerce industry. However, to make the right use of the tools and technologies to leverage your online business, it is important to take the help of e-commerce platforms such as Shopify. 
With Shopify, you do not have to develop a website as you get an already developed website and admin panel access to enter store data, products, and process orders. With Shopify, you can also integrate your online store with the biggest channels out there. 
Now that you know the enormous benefits of technologies, start investing in these technologies because it helps them to strategically heighten their businesses' success.