It is both exciting and overwhelming for businesses to start their online store. But things get a little frustrating if you don't know many things about e-commerce development. First of all, don't start thinking that creating your own online shop is too much for someone with no design skills. Secondly, platforms like Shopify can do it for you in a jiffy. Shopify makes building stores simple and the result looks great and works even better. Follow this guide, and you will know how to set up a Shopify store with dozens of products in under 30 minutes.
Here is what we are going to discuss in this blog post.

What is shopify?
Shopify is one of the best-known platforms for creating and running an online store. In other words, Shopify is software that you pay for using the SaaS model. You can call it the WordPress of e-commerce websites. There are now more than a million active users who are running their e-commerce stores with Shopify.
How does Shopify work?
Shopify is a platform that offers simple and appealing software solutions to small and medium businesses. It has the solution to all your concerns: the functionality you need to design a shop, display products online, track inventory, accept payments, calculate shipping as well as tax rates, and a lot more. These services are what you, as a user, pay for and get. For a monthly subscription fee, this platform provides you with the tools you need to build, launch, and run a successful e-commerce store. Shopify does have some competition, but it is still leading the market.
How much does Shopify store development cost?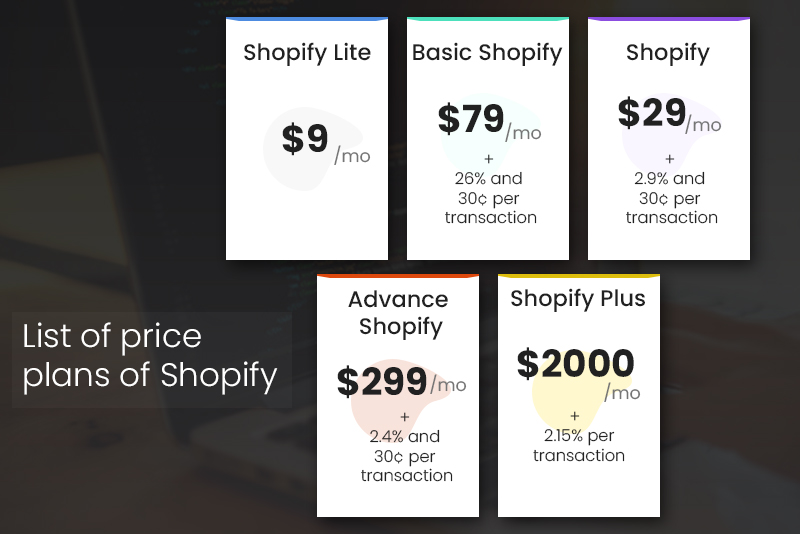 Here's a list of price plans of Shopify:
Lite Plan – $9 per month + a Buy button
Basic Shopify Plan – $29 per month + 2.9% and 30¢ per transaction
Shopify Plan – $79 per month + 2.6% and 30¢ per transaction
Advanced Shopify Plan – $299 per month + 2.4% and 30¢ per transaction
Shopify Plus Plan – pricing plans start around $2000 per month + 2.15% per transaction
Shopify store development- Step by step guide
Choose your store's name: First of all you have to come up with a really unique and perfect name for your online store. That would be your brand name and you would be known by that name only. Once you find a suitable name that is perfect to define your product offerings, you buy a domain. You can buy your domain name on Shopify or on any other third-party app.
Create your account: OK! So, now you know what name you want your store to be called by. It's time to register yourself on Shopify. For a 14-days free trial, you have to sign up on the website. You have to fill in some details like your email, name, and store name (you can change your store name later if needed).
Select your Shopify themes: Your Shopify store development process actually starts from here. There are plenty of themes available on the platform both paid and free. You can choose a theme according to your taste and design you have in mind. It is the theme that will add a wow factor. Not only this! If you want, you can also customize a theme as you want. You can access this option by clicking the Customize button under Themes.
Add key pages: When you enter the shop, you'll be prompted to do a quick set-up and add some products but it would be better to add key pages first. The most important key pages that you should add initially are Contact us, About us, and Privacy policy. Shopify saves your time by providing a free Privacy policy that adheres to all guidelines. All you have to do is provide your address and email and ta-da your Privacy policy is ready. Next, go to Sales Channels > Online Shop > Pages in your admin panel and create a new page.
Add products: The boring part is over and here comes the interesting part! Go to Home and click 'Add product' to add products to your site. There are some important things that you should add with each product such as Title and Description, Image, Product details, and Price. If you want to rank your site, you'll need to do some research and add a couple of keywords in the description part, but for now, just describe the product. Also, never add a low-quality photo of your product.
Add collections: After adding products, make collections of similar products. You can make a group of products that fall in the same category to help your customers find what they need more quickly. For example, 'men's shoes'. Go to Products > Collections and add a new one. You can add products to those collections manually as well as automatically.
Customize the Checkout page: To finalize your store, customize the checkout page. Click on Theme Settings > Checkout and open the checkout page in your editor to see the changes. Change several things like background colour or imagery the way you like, then go to the next step. For now, you can make the urgent changes to start your business, then make the less-important changes later.
Why choose Shopify?
When it comes to building your online store, you should go for Shopify as it is the easiest, cheapest, and most convenient platform that is the best for your business.
Also, if you are a beginner with the least or no technical knowledge and want your e-commerce store, go with Shopify.
5 Major reasons to choose Shopify:
Many big brands are using Shopify
You don't have to bother about server costs
Discounts are offered on yearly plans
Shopify offers great app integrations with SaaS services
Security & Reliability
Conclusion
We hope that this guide on "How to create a Shopify store in 30 minutes" satisfy you in a great way and brings you a great experience working on Shopify. Do let us know if you need any help to create your own Shopify store.