Living a healthy lifestyle has become a trend over the past few years. Today, being healthy signifies being beautiful, fit, and successful. People are now becoming increasingly aware of diseases and issues caused by obesity and sedentary office work. Such health related problems encourage people today around the globe to pay extra attention to their health. This is the reason why fitness app development has become so popular nowadays.
As per a forecast by Statista, fitness apps that analyze fitness achievements such as miles run or weight lifting are going to become only more popular. By 2021 end, the fitness app market will show significant growth. Thus, now is the absolute right time for companies to get into this industry. In case you are already planning about getting in touch with a fitness app development company, let's have a detailed look at what all you should expect out of such an ambitious project of yours.
Why You Should Go For Fitness App Development? : Industry and Market
Going by a study published by Market Watch in January 2019, the fitness app market is assumed to reach $14.7 billion by 2026. The market is anticipated to expand at a CAGR of 23% over the forecast period. 
As per a report by Statista, the fitness segment's revenue reached $17,963 million in 2020, and has continued to expand rapidly. 
As a result of this, revenue is anticipated to increase at a CAGR of 5% from 2019 to 2023, leading to a market volume of $20,499 million by 2023. 
With the emergence of the latest health and fitness features, the fitness app development market continues to grow and is expected to expand. 
According to Statista, fitness apps were downloaded 593 million times globally in the first quarter of 2020.
By the end of the second quarter of 2020, fitness apps are expected to generate 656 million downloads.
In the same quarter last year, fitness apps were only downloaded 446 million times. 
The global coronavirus pandemic, which has led consumers to stay at their homes and restructure their general lifestyle practices and workout regimen, is a huge reason for this uprise.
Fitness App Development in 4 Easy Steps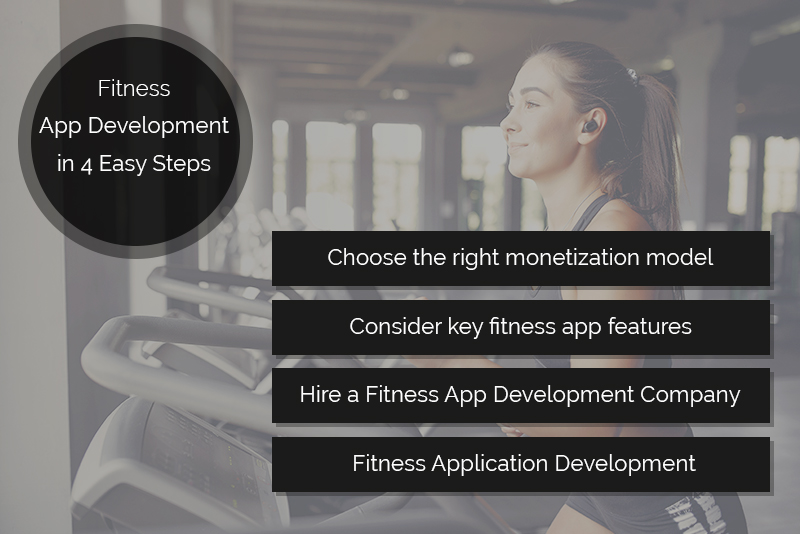 Step 1: Choose the right monetization model
Amongst paid apps, freemium, in-app purchases, ads or sponsored content, you need to pick the right monetization model for your fitness app.
Step 2: Consider key fitness app features
The key features for a fitness app include User profiles, Notifications, Activity tracking, Profile settings.
Step 3: Hire a Fitness App Development Company
In order to create your own fitness app, you must hire a fitness app development team to transform your business idea into a working solution.
Step 4: Fitness Application Development
If you are releasing an app for iOS and Android, you will require at least three developers – iOS, Android app developers as well as a backend developer.
Key Features of Fitness App Development
Are you confused about what all features to include in your fitness application? Each and every fitness app development serves a different purpose and offers its users special features. However, there are certain basic features that a fitness app must contain in order to be more accomodating and user-friendly. Here's a list of must-have features of fitness app development.
Enable users to sign-up using their google, Facebook, Instagram, Twitter, or other social media accounts that befit your target audience and also their own personal email addresses.
When creating a profile, users enter their personal information such as name, age, gender, height, weight, and fitness level. Both app developers as well as users benefit from this information. It allows developers to create apps that match users with tailored workout routines and track their sporting activity.
Setting goals is a critical aspect of any fitness application. Enabling users to set goals and objectives serves as a motivation as it translates into a goal tracker that helps them to achieve their fitness goals without any fail.
Video illustrations, photos, and 3D animated models can all be used to demonstrate workouts and exercises. Enable users to create their own workouts, make use of a standard set of exercises, or combine the two.
Your fitness app can obtain activity tracking data in two ways: integration with any wearable tracker or smartphone sensor. Smartphones enable your app to show the number of steps taken, the distance traveled, the number of stairs climbed, the direction traveled, and the speed. In order to sync with fitness wearables and measure other parameters such as body temperature, sleep quality, or heart rate, you will require to add third-party APIs.
Push Notifications and Reminders
You can boost an app's retention rate by three to ten times by just delivering the right text at the right time. According to Business of Apps, push notifications for fitness apps should contain upto 90 characters and be sent between 7 a.m. and 8 a.m. or 12 a.m. and 2 p.m.
Machine learning algorithms can be used to provide personalized recommendations according to a user's preferences and/or viewing history. AI (Artificial Intelligence) allows an app to develop customized fitness programs with dietary plans.
With the help of this feature, users can change their emails and passwords, alter their notification settings, and can deactivate their accounts.
The need for a payment feature in any app is self-explanatory. Integrate a payment gateway into your app, like Visa, PayPal, etc.
How Much Does it Cost to Build a Fitness App?
An outsourcing fitness app development company will only provide you with a rough estimate of your fitness app development cost according to their previous experience with similar projects. They will be able to provide you with an accurate estimation only after you have gone through the concept validation and UX strategy stages of development.
Regardless, let's talk about the price here.
Your minimum app development team should include:
QA Engineer
Project Manager
UI/UX Designer
Android Developer
iOS Developer
Backend Developer
On an average, the cost of fitness app development is $63,770 as per a $35 hourly rate and 1822 hours of work. However, note that this is just for MVP (Minimum-Viable-Product).
Fitness App Testing and Further Improvement
This stage of development also demands the participation of the complete app development team. When you get a completely functional fitness app, the testing and improvement stage just ends. However, it resumes in case you decide to make a change.
Taking input from users and analyzing it
KPIs for mobile applications are being tracked
Identification of faults in the app
Fixing flaws
Enhancement of the app's functionality
Over to you
Fitness app development can indeed prove to be quite a challenging task. But now that you are aware of the entire development process, we hope it will be easier for you to estimate the cost of your amazing idea. When developing a fitness app, you can also consider gamification features to motivate people to use your app and also share it with their friends. Still have questions? we are ready to get you answers by our experts. Let's schedule a call with one of our solution architects.