Shopify, in one of its blogs, predicted, "chatbots in e-commerce would tackle 85% of customer service interactions by 2020,", the industry must get ready for this revolution.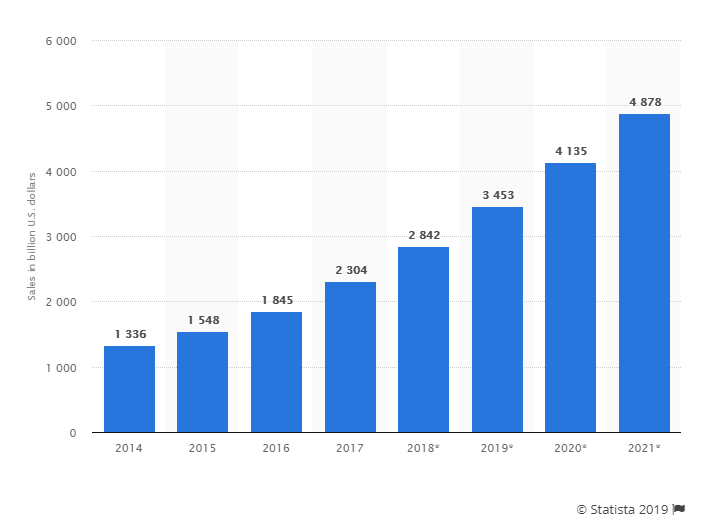 According to Statista, ecommerce sales will reach $4.5 trillion worldwide by 2021.
However, these promising statistics are masked from extensive pressure under which the industry is rolling. Companies in the segment experiencing fierce competition and revenues are generated from tight margins that are strategically introduced to consumers now and then. While consumer demand is growing day by day, it is making life tough for the companies who operate in this segment.
The way consumer expectations and competition is increasing in today's era, there are only two ways of being successful in the ecommerce:
1. Maximizing Capabilities
2. Beat Competition
Technology plays a significant role in ecommerce, and yet again, it has introduced a powerful tool that if used precisely, could help companies increase sales, cut costs and vastly improve the customer experience. The powerful tool is Chatbots for E-commerce.
What is A Chatbot and What It Do?
In a continued effort to design tools that simplify the user experience with the businesses, now we have chatbots that are not just available but hit the market profoundly. Chatbots and voice bots are industries newest tools. Chatbots and voice bots present conversational UI that effectively simplify conversation between computers and humans.
A chatbot can simulate a conversation or chat with a user as a human does. Based on AI and powered by NLP, these tools can simulate the most advanced and promising expressions in messaging apps, websites, mobile apps, or through the telephone. Though the basic concept of a chatbot is formulating answers to questions asked by a human.
But a shift from UI to Conversational UI due to AI, ML, DL, and NLP allows chatbots to be rational and contextually aware. It gives the privilege of interacting with the computer on human terms.
Here Are Some Of Ecommerce Chatbot Examples
1. Aerie
Aerie is a clothing retailer by America Eagle Outfitters had introduced the Kik messaging app as Brand's chatbot in 2016. The company has successfully experience increased user acquisition with its shopping chatbot.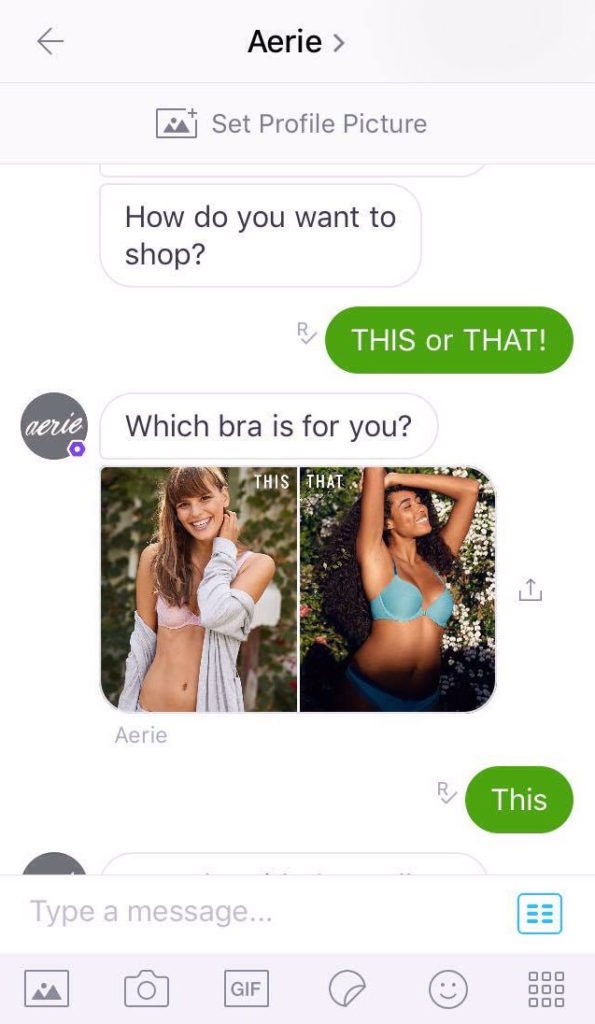 To provide a personalized shopping experience, the bot used "THIS" and "THAT" tactic. It helps the firm acquire more than double the average number of users that they used to add monthly across all social channels combined.
2. eBay
Initially, eBay used Facebook Messenger and launched an auction bot that sends a reminder to get the last-minute bid in. Now the company has introduced ShopBot to help users find products at the price they want on the ecommerce platform.
3. Burberry
Even being 164 years old fashion brand, the company keeps an eye on future technologies to reach to their audience. Burberry also introduced it was chatbot in 2016. The chatbot has evolved over a period and has engaged buyers and help them retain and loyal to a brand in many ways.
Right from providing a glimpse to buyers about the new collections, answering their customer service questions, helping them browser collections and allowing them to chat live with a Burberry consultant, the chatbot has ensured a consistent in-store experience for its visitors.
4. Trim
Trim is a fintech startup and comes with a unique business concept. It introduced a chatbot on SMS and later expanded to Facebook Messenger.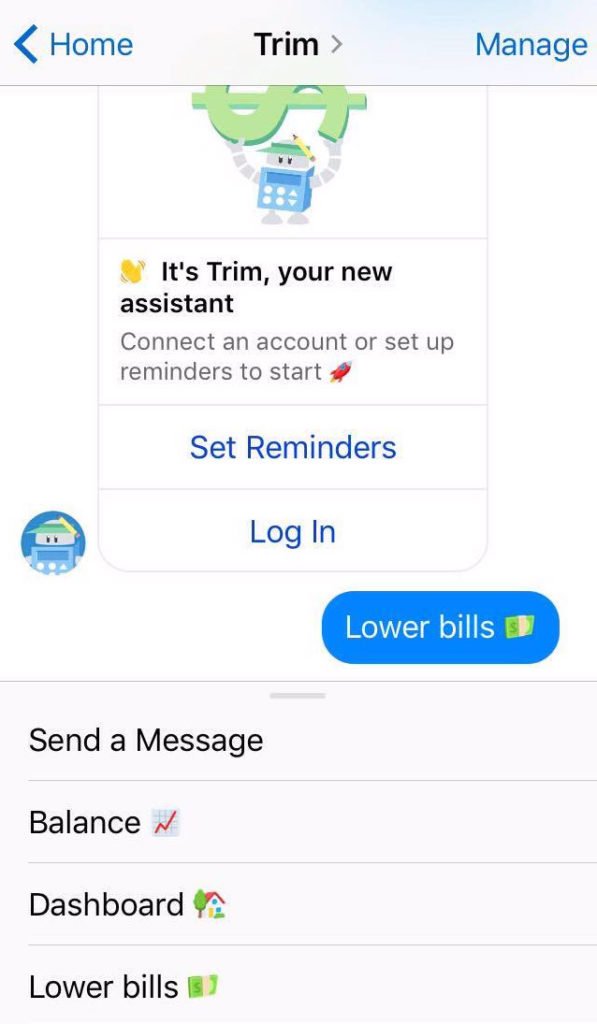 The bot is quite simple. It scans bills for recurring subscription charges and then updates users whether they wish to cancel a subscription. And to do so, a user has to write back "Cancel gym," "Cancel Dropbox," etc. and you are done. Trim has a 94% retention rate as per the CEO of the company.
5. Pizza Hut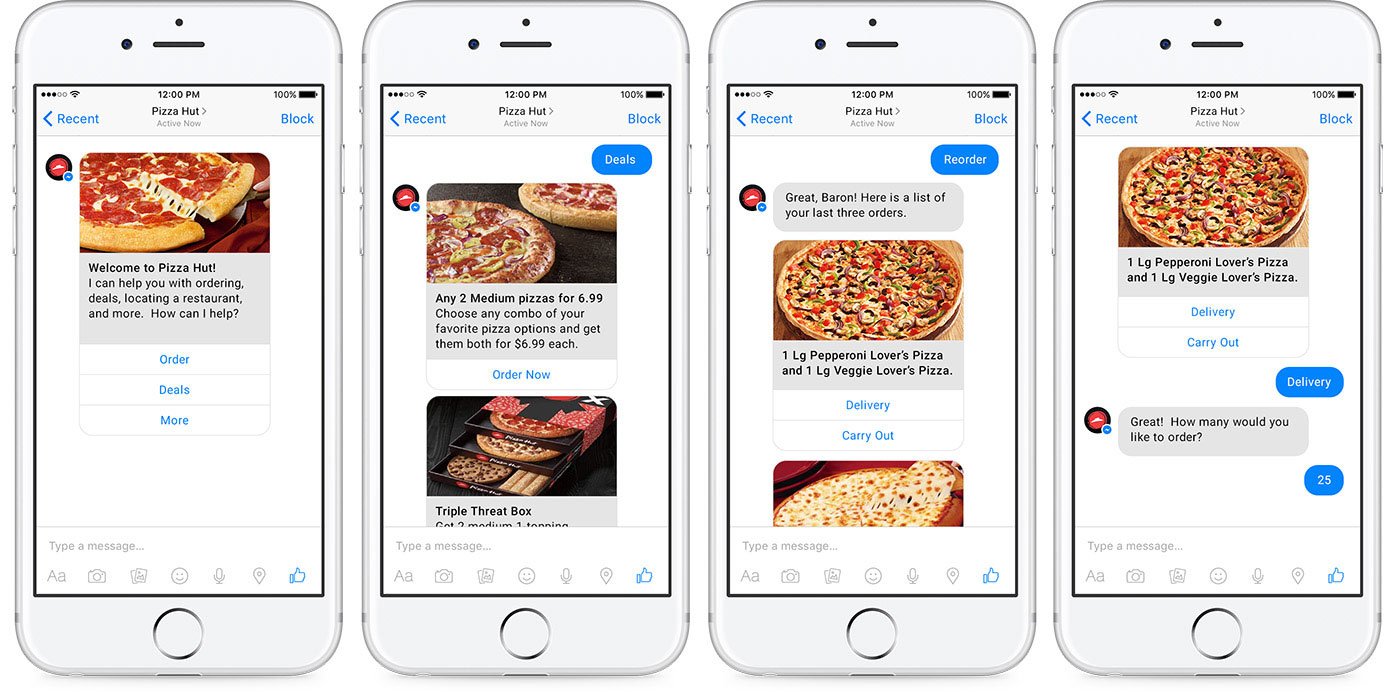 Did you know Pizza Hut sold their first Pizza online before Amazon sold its first book? The company allows people to order Pizza only by chatting as you do with a friend. A user can also save details of their favorite Pizza to re-order with the touch of a finger.
The bot also answers to queries related to the latest promotions. No calls, no visit to shops, no website browsing, and no need to even download the app. Bot proved to be a valuable asset to Pizza Hut in improving sales.
Benefits of Chatbots For E commerce: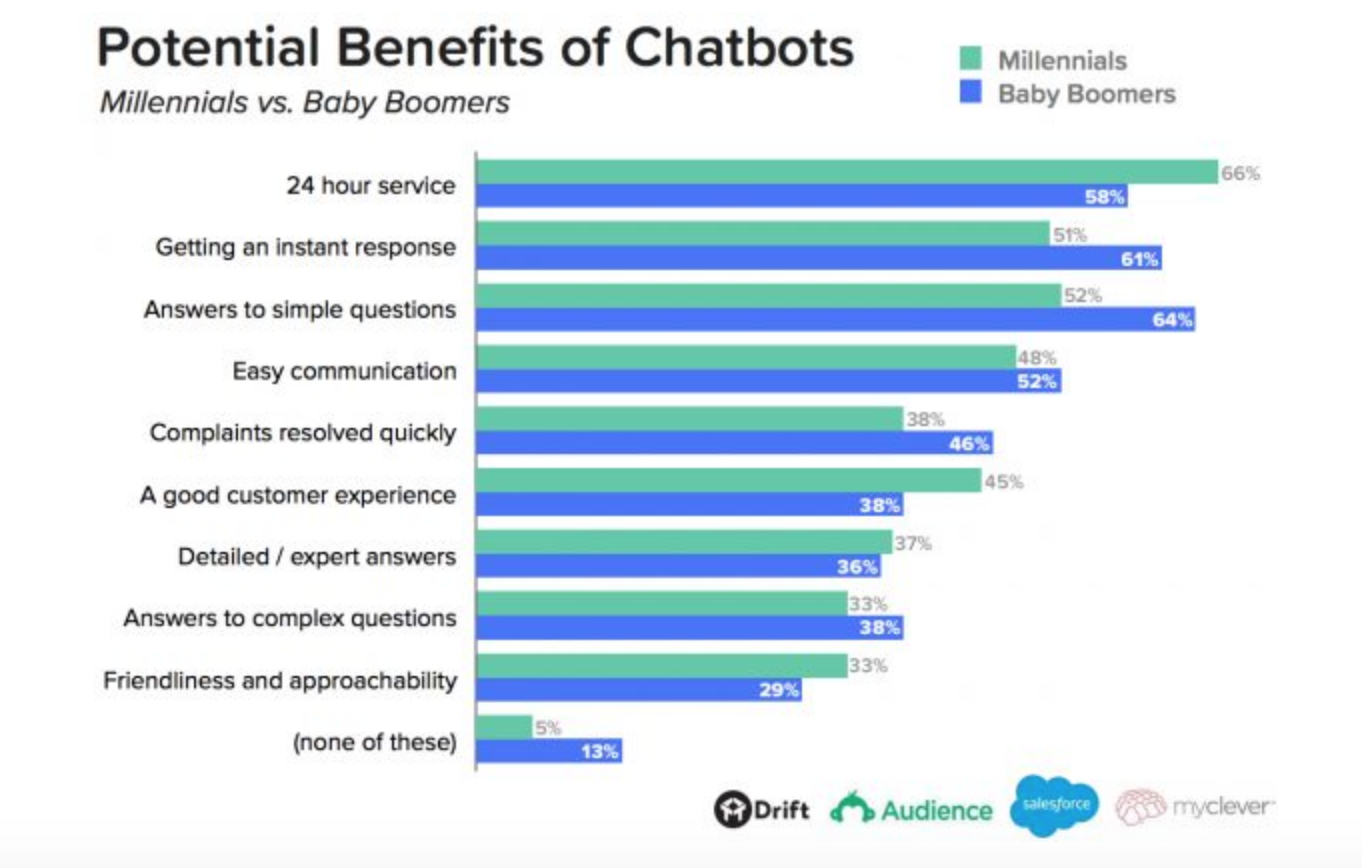 Build a chatbot to get these benefits
1. 365X24X7 Support – Unlike the support staff, chatbots don't need breaks. These are computer software, learn 24 hours a day, and available to provide 365x24x7 support.
2. Reduce Operational And Service Expense – Businesses spend $1.3 trillion on 265 billion customer service calls each year, which could be saved using Chatbots. As it is available for 365x24x7, it speeds up response time, capable of answering up to 80% of routine questions, thus freeing up agents for more challenging tasks.
3. Increase Engagement With Customers And Touchpoints – Businesses needs to be there where customers are. Omani-channel and chatbots are meant to be together. It not just wow your consumers but also excite the new users since they get a seamless customer experience everywhere.
4. Eliminate Mobile App-Fatigue – There is an app for everything, but not every user want to download it. A user also avoids going through the whole website to get answers to some queries. Even if a user downloads the app, they may uninstall that quickly and a business loss all engagement from the prospective customers. Chatbots, on the other hand, offers a personalized and to-the-point response in a different channel.
5. Multiply Reach and Increase Depth Of Engagement – Chatbot is there to serve the business as well as its users day in and day out and even on the weekend. Unlike support executive, a chatbot can handle users from hundred to millions at a time, deliver the expected user-experience as designed. Therefore multiply the reach and increase the depth of engagement.
6. Instantaneous Response – Today's user's patience level is damn low. A user ditches a website if he/she don't find sometimes useful on the site in just 3-5 seconds. In that scenario, the chatbot provides an instantaneous response, engage the user with the brand as well as craft a smooth brand journey.
7. Rich Analytics – Having chatbots on omnichannel or multi-channel also means a collection of useful business data. This rich data can be used to understand user' behavior and expectations from the brand. Further, it helps improve services/products or in enhancing business practices or in defining new strategies, or in increasing customer expectations and in a more innovative way.
How To Make Chatbots For E-commerce?
There are three ways companies in the e-commerce segment can consider for chatbot application development for themselves.
1. Go With Easy Way
It means to develop an artificial intelligence based virtual assistant via chatbot development website. There are low-or-no-code options available for users to select. These websites usually provide chatbot integration support for your website. Their talking robot comes with some pre-built features that help prompts the site visitor through simple taps and solve their basic queries.
2. Intermediate Option
How can we forget Facebook Messenger to build a chatbot? Possibly the most common method early adopters have chosen, having a talking robot for business on Facebook Messenger is still the right choice for companies, big and small. The social media giant provides complete guide and other required material to build and integrate artificial intelligence based chatbot online.
3. Hard But Highly Useful Business Solution
Developing a chatbot from scratch is hard, but its rewards are just incredible. To build custom talking bot, one can hire chatbot developers from reputed and experienced bot development companies.
When you appoint professional developers, they solely focus on business needs, give your talking robot a personality that converses in tune with the brand's tone and flow. When you opt for custom bots development services, you can control everything that means creating a custom feature for the users, and more options.
Handy Tip When You Develop Chatbots for E commerce in Any Format
Although there are options provided to develop a right chatbot for ecommerce business, still you must adhere to some tips such as:
1. Chatbot Should Not Sound Robotic
Though your chatbot is a software program, it shouldn't seem like one. Use NLP and AI to make it respond human-like to enhancing user engagement.
2. Always Follow: Build, Train, Deploy, Track
Chatbots are available between us from almost four years, but technologies behind it are still evolving. Thus the scope of improvement is always there for companies. Regardless of the platform you choose to launch your chatbot, you must focus on the process to – build, train, deploy, and track the chatbot for its performance while human interaction.
Asking feedback from users about their experience after every conversation is an excellent chance for improving every area of services offered through the chatbot window like browsing of products, customer support, complete the payment, personalized recommendations, order notifications and so on.
Are you ready to build a chatbot for your e commerce?
The primary role to build a chatbot for ecommerce is to bring value to the customers. With the experience under belt, bot development companies can provide customers with the best e-commerce chatbot features.