It's the time to go beyond "sorry, I didn't get it" types of bots and jumped to conversational AI systems.
Research shows that consumers are starting to prefer self-service to talk to a customer service agent. – Forbes
Inspired by this, smart brands bring their customers on their bot journey to deliver a more effective and efficient digital customer experience.
Branded AI Chatbots Currently Making Customer Connections
1. The Wall Street Journal
The Wall Street Journal uses Facebook Messenger to launch its AI-powered bot. Now, this leading portal enables its users to stay on top of big news and stock quote easily. Through giving simple commands, it also shares key financial metrics, company information, and live stock quotes.
2. Mastercard
Customers with Mastercard's Facebook Messenger bot can check card transactions easily. You can also use Masterpass with AI-powered bot to shop from Subway, FreshDirect, and the Cheesecake Factory – the Mastercard partners.
"Chatbots adoption is significantly growing beyond CRM in businesses of different domains. Stand-alone chatbots will contribute 40% of the market by 2022." Business Wire
3. Starbucks
Starbucks is doing things on another level. The company approached chatbot application development service, and now users can find chatbot inside the Starbucks app (for iPhone, Andriod, and Windows). Startbucks' chatbot assists you with text response and with voice. Now place your order for your favorite snack or drink either voice commands or text messaging.
Uber, Spotify, Whole Foods, Dominos, Pizza Hut, and many smart brands are harnessing AI, and it's advantages.
Why Chatbots Are Worthy Of Your Attention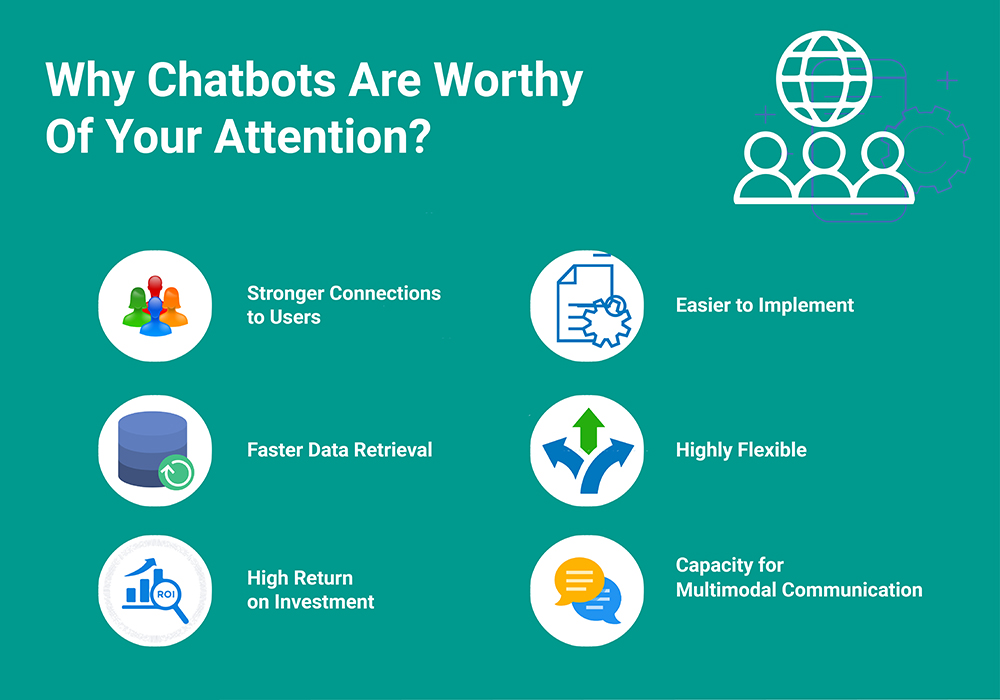 Conversational AI systems are inevitable to the human ecosystem. A well-known example of conversational AI is Amazon's Alexa, Google' Google Home, and Microsoft's Cortana.
Bots have come a long way from their rule-based predecessors and almost every tech company today integrated one or more chatty assistant using professional chatbot application development service. Having a chatbot in business not always mean that they will be able to answer all questions but they can handle the conversation well.
Today's chatbots are AI and ML powered and understand the context of the conversation and can handle any user goal gracefully and help accomplish it as best as possible. A user can wake them up any time of the day with a simple command.
Beneath what we see are layers upon layers of machine learning, artificial intelligence, natural language processing, neural networks and detailed programming enabling chatbots contextual and behavioral smart. However, it's advancement makes many brands and businesses confused about building one of their own.
If you contact OnGraph Technologies for custom bots development services, we consider our cheatsheet to build branded AI Chatbots. Here is our cheat sheet.
1. Who Are The Users?
When we assist clients for bot application development service, we first ask who the users are? Understanding users cleared the path for developing a conversational AI agent for a business. There is chit-chat vs. task-oriented chatbots. Depending on the nature of a business, we build bots that maintain a conversation, being interesting, creative and fun all time to users if they are looking for such experience.
On the other hand, we develop task-oriented chatbots. Means, the virtual agents help business occupy them to offer customer support, helping users to achieve a certain task — E.G., banking, and finance Bot, technical support Bot, etc.
2. What Is Your Bot Assisting With?
Today, chatbots are developed to perform millions of tasks. Some user finds advanced bots an alternative to Google search, and some use them as a personal assistant for purposes like playing music & videos, getting news, ordering pizzas, bookings cabs, etc. Conversational bots are good in answering FAQ's and doing much more things.
Advancement in bot technologies allows us to deliver open-domain and domain-specific bot development services. We help clients define the role of chatbot for their business clearly. It helps us perform coding for bot logic which makes easier to integrate third parties and APIs when required — e.g., sales bot, HR bot, etc.
3. Where Can Your Bot Be Accessed?
Our domain expertise and efficiency allow us to provide chatbot application development service for omnichannel. Still, we appreciate clients to determine their requirement. Our offered self-learning chatbots can be deployed to the website, mobile applications, and messaging platforms, e.g. Facebook Messenger, Slack, WhatsApp, Skype, Telegram, Evernote, Twitter, WeChat, etc. We develop engaging UX and UI.
We give every bot a personality with conversational UI built for enterprise requirements. It enables chatbots to stand up parallel to the existing systems. A self-learning bot helps your users to come to your business from where they are instead of dragging them to a different platform. E.g., Efficacy Tips, Fit N Simple, Recipe Book, Food Network, HDFC Bank, and more Facebook Messenger bots.
4. When Will Your Bot Be Launched?
This is one of the most common questions we are asked in every QA session with clients after collecting query. When will the bot be launched? It all depends on the 'scope of work.' Whether you want AL and NLP powered conversational agent to do more than mundane tasks or respond proactively and present intelligent suggestions to influence user's decisions, the scope of work in chatbot application development service varies drastically; thus, the launch of chatbot for your business too.
5. How?
Before initiating a chatbot development project, we characterize goals, the roadmap and the ways we strategically decide to quantify success. Be it AI Chatbots, NLP Chatbots or ML Chatbots; we have done it all. We have built intelligent chatbots which makes use of knowledge base & personality traits, have presentation abilities and is contextually sensitive.
Our range of experience spans across domains like Airlines, Insurance, Customer Support, Ecommerce, Financial & Banking, etc and integrations across popular platforms. We have performed bot application development service for platforms API.ai, Kore, Manychat, Microsoft Bot Framework, Motion.ai, Pandorabots, and Wit.ai.
Wrapping Up
This cheatsheet compiles our strategy, approach, platforms and the useful tools we are using to provide chatbot application development service to build conversational virtual agents for different business and their requirements. Share your thoughts with us in the comment section below.
You might also interested in:-
How Companies Can Leverage Chatbots in Financial Services
Chatbot Development: How To Make Chatbots For E commerce
If you enjoyed this and found this post useful be sure to share with your colleagues, friends and those who would find it useful.