With the rise in the number of mobile devices, online shopping has now become easier than ever. One can now shop while being stuck in traffic, in trains, in busses, or even at work. This has subsequently led to an abrupt increase in the number of ecommerce businesses in the market. However, the market is now becoming quickly saturated. The customers today have many options to choose from. Thus, there's fierce competition between various ecommerce apps like Amazon and Flipkart. In the battle of beating the other, these sites are coming up with more innovative ideas day by day.
The global online sales in 2019 have reached $3.5 trillion which is about 18.5% from the previous year. Moreover, this figure is expected to grow to $6.5 trillion by 2023. The key to succeed in the ecommerce business is simply to stand out from the rest. You can easily do this with the help of a properly developed and well planned mobile application.

The trend of online shopping is growing majorly because no one today wishes to waste their precious time standing in the long queues and wait for their turn during payment. With ecommerce sites, one can easily do all the shopping from the comforts of their home without wasting fuel and time. Amazon, Shopify, eBay, Myntra, Alibaba, Snapdeal and Flipkart are the most trending ecommerce applications that people usually use for online shopping. These businesses have built their own shopping applications. Amazon has proved to be the best player among all these. In order to build an app like Amazon, it is essential to first set the business goals with utmost clarity.
Are you also looking forward to building your ecommerce application like Amazon? If yes, then here you'll find all the essentials your ecommerce app requires to become successful as Amazon. But before that, let us first understand what ecommerce is and how it is beneficial.
What is Ecommerce?
An ecommerce is a powerful and effective platform that makes purchasing and selling of products easier. It allows customers to compare and purchase products or make use of services smoothly from anywhere around the globe. It generally utilizes the World Wide Web for displaying products to the customers as well as for other activities such as online marketing, data transfer, money transfer, etc. There are various ecommerce business options to choose from. All of these vary based on capital, business models, and varied preferences. One has to adopt different strategies for each one of them and plan in order to make business successful. These models include:
B2B (Business to Business Model)

B2C (Business to Customer Model)

C2C (Customer to Customer Model)

C2B (Customer to Business Model)
Ecommerce app development today has become an integral part of creating success for your business. It offers a number of benefits to make your business stand out from the rest of the competitive world. Let's have a look.
Benefits of Developing Ecommerce Apps
So here are some of the major benefits of ecommerce apps:
Enhanced brand value

Lower transaction cost

Higher profits

Provides better customer satisfaction

Enables the sellers to connect with the global audience
Market Analysis
In today's time, e-commerce is one of the most rapidly growing sectors and is the one which is changing the world at a high pace. The convenience of ordering things online and having them delivered instantly to your doorstep without the need to even leave the comforts of your house is addictive and miraculous.
Because of this ever-growing trend, more and more ecommerce businesses are emerging into the market each year and are also earning great profits.
According to a research conducted by

Statista.com

, the ecommerce market in the US alone is worth $360.3 billion. And the US retail ecommerce sales is projected to reach $603.4 billion by the year 2021.

As per the American Customer Satisfaction Index of 2020, shopping online has been the most satisfying way to purchase goods especially during the pandemic.
While the shops remained closed due to the lockdown, the online apps witnessed record-breaking traffic.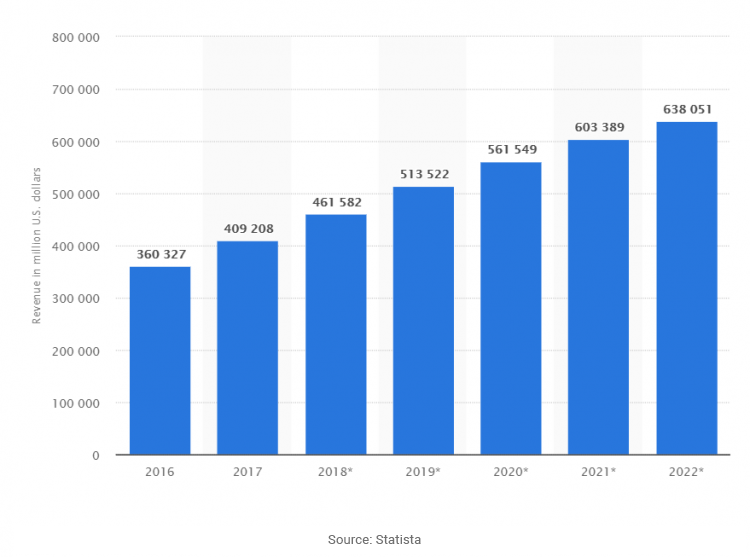 Experts have presumed that in a very short period, as most of the businesses will shift to the online medium, mobile apps for business owners will happen to be in great demand. It also gives them a bigger market, better exposure as well as a good ROI.
If you also wish to reach out to a larger market by leveraging the reach of mobile users, then building an online selling app shall be the best option. Business applications or shop apps are a great hit amongst the entrepreneurs as well as masses. They are leveraging the craze of online shopping via mobile apps to enhance the sales via shopping mobile apps like Amazon.
If you are a well funded entrepreneur or a medium size business owner who wishes to launch a unique and custom online store, then we would recommend you to take the assistance of an ecommerce app development company and they will build a successful online store for your business.
The Story Behind Amazon's Success
Before you begin with your online application development, you must know more about Amazon which include its origins, growth as well as its success story. Amazon is the most popular international ecommerce platform that offers online retail, consumer electronics, computing services, digital content, and other local services like daily deals and grocery deliveries.
Amazon became the leading e-retailer in the US in 2018, amassing over $232 billion through sales. Most of its revenue comes from the online sales of electronics and other products. Due to its massive reach as well as global reach, Amazon today has become one of the world's most highly-valued companies.
Besides its desktop platform, the brand now has also immensely expanded to mobile consumers. Apart from providing an online market to consumers and businesses, Amazon also provides a video subscription service, known as Amazon Prime.
Apart from being able to stream hundreds of shows and movies and exclusive series, subscribers also get special two-day guaranteed deliveries on ordering products from Amazon's platform. The Amazon Prime subscription also provides free access to the music streaming service of the company.
Below we have listed some of the right things done by Amazon in its initial years:
The very first thing done right by Amazon was offering an outstanding collection of books at very affordable prices.

It provided a robust search engine to its users so that they can browse through its database of books.

It provided suggestions and various lists to its users from which they could select a book. Moreover, the recommendation section, where the users could choose books as per their reading preferences and moods, also worked in the favour of Amazon.

It offered gift packages and automatic notification systems to its customers who were using the Amazon mobile app.

It enabled its users to share their reviews and comments about the book as well as the product they receive. It also allows them to conclude their review by providing them ratings in the form of stars.
Step-by-Step Guide to Build an Ecommerce App Like Amazon
So now, the main question arises – how to create a shopping app like Amazon that can attract lots of customers and also make them come back, time and again.
Let's have a look at every step that goes into making a successful online shopping app like Amazon and discuss each and every point in detail.
#1 Conduct Market Research and Planning
Nearly all the businesses begin their process by analyzing the customer's business requirements. The very first thing you need to think about is what kind of products you actually want to sell on your site and what customers actually want? Do you wish to sell a specific kind of good or want to go for all kinds?
In case you wish to sell all kinds of goods, then make categories hierarchy so that your customers can easily find the desired products they wish to purchase without any hassle.
It's very important to analyze the behaviour and patterns of the targeted audience. You need to know about their basic age, interest, needs, likes as well as dislikes. This will help you to provide them with a better experience on your ecommerce application.
#2 Choose the Most Vital Features for Your App
After the planning process of your app has been done, it is now the right time to list the most essential features of your ecommerce application. Below are some of the integral ecommerce app features we are enlisting here so as to provide you with a reference for what you might want in your application.
As an ecommerce business owner, one must not be afraid to embrace honest reviews and feedback. Understanding your consumer's complaints will not only result in your app's improvement but will also encourage long-term success.
Your consumer's should also be allowed to review the products that are available on the platform. For an online marketspace, this is an important feature. Reviews from other consumers help customers to determine whether or not a specific product on your ecommerce platform is actually suitable for their needs. Your ecommerce platform must also highlight both the positive as well as negative aspects of a product review, so as to help the customers make an informed decision about the same.
Because of the emergence and evolution of the Internet in today's time, there are several feasible options available to consumers when it comes to making payments digitally. Your ecommerce app must ensure support for as many of such payment modes as possible. Or else, you might run the risk of losing on various clients who are unable to find their preferred mode of payment enlisted in your app. Thus, to avoid such scenarios, integrating multiple payment options in your ecommerce app is always good.
Creating an amazing app like Amazon partly depends on designing proper push notification features. These systems enable effective means of communication with the consumers. With the help of this notification feature, you can easily inform your clients about ongoing offers and discounts along with important updates about modifications to the app. Informing clients about offers and sales on a regular basis can directly lead to increase in your revenue generation.
Ecommerce businesses are all about selling. Thus, in order to achieve long-term success, it is important to spread the word about your brand and application. And in today's time, the fastest way to popularity happens to be integration into the various social media platforms. One must also ensure consumer login features via social media handles. This simplifies the process of the signing in to the application with just one-tap access to your digital storefront.
Furthermore, the integration of Twitter, Instagram, Facebook, and other social media handles helps consumers to freely share offers and discounts available on your platform, thus urging new users to sign up and begin using your products.
This is one of the most essential features in ecommerce applications. This enables consumers to save products they are interested in for future on their wishlist. Later on, they can easily find their desired item from this list when they intend to purchase the product. This feature considerably simplifies the buying process. Apart from the consumers, the wishlist also helps the backend team to check and understand the user preferences. With a better insight into the user's preference and behaviour, they can target them for certain discounts and offers that they are more likely to leverage on.
Most of the online stores today operate both desktop as well as mobile versions of their services. Thus, if your development team comes up with an amazing update, you can leverage the synchronization feature so as to incorporate the positive modifications across both the desktop and mobile variations for your ecommerce marketplace.
Whereas, in the absence of the synchronization ability, your developers would have to put double the efforts so as to integrate the latest features in the two platforms. Even after that, your mobile version would have received the update way sooner, leaving your desktop users disappointed. When creating an app like Amazon, just make sure to include this important feature to your app.
A Fast and Secure Checkout Process
Ecommerce apps are places where consumers spend most of their time in choosing an appropriate product for them to buy. After spending so much of their precious time choosing the products, they must enjoy a simple, fast and secure checkout procedure. With a complicated checkout process, you may lose some of your potential customers permanently. Thus, simplifying the payment and checkout process is one of the top priorities when building an ecommerce app.
One of the ways to achieve this is via the ability to add credit or debit card details during the first transaction. With this, consumers can simply choose their saved card for all of their succeeding purchases, thereby saving a lot of their time.
#3 Competitor Analysis
Once you have decided on what kind of goods you wish to sell and the essential features of your ecommerce app, the next thing is to do an in-depth analysis of your competitor websites for better experience and reference. Make a list of all the competitor sites and try to find the suitable reasons for them being the first choice for buyers.
This never means that you copy their business model or features, but just to take their reference and create your very own better ideas and design. Do a deep study of the best ecommerce applications for better ideas and see what and how they are offering their customers.
You can also follow their marketing strategies, the way they are promoting their brand and the use of keywords to target the right audience.
#4 Choose a Suitable Platform
iOS development or Android development? In order to choose the right platform, it is essential that you do a proper market research. This gives you an idea about the platform that your target audience uses.
For your ecommerce app development, you can either choose one of the two platforms, i.e. Android or iOS or can also go with both of the platforms. It entirely depends on the targeted audience and the type of goods.
#5 Design Your App
The design of your ecommerce app is directly responsible for the success or failure of the entire program. Planning the design of your app before you start with the coding can also help you to save a lot of money as you would be spared from several iterations or revisions during the development process. By prioritizing the design concept for your ecommerce app, you can also speed up the market validation procedure for your application.
#6 Advance Technology Integration
During the planning process of your ecommerce app, you must also think about the future technologies that can be integrated in your app. This helps the app development company to make your app scalable. As the technology is advancing day-by-day, you must be aware of the latest technologies.
For the near future of ecommerce app, some of the good technologies are alexa skill (voice command), virtual reality (VR), augmented reality (AR), Internet of Things (IoT). In case, you already have an ecommerce app, then you can get in touch with an expert app development company and get these technologies integrated in your existing application.
Wrapping Up
Once you identify your target audience and niche, you can follow this simple step-by-step guide to build an outstanding online app like Amazon. These tips will be beneficial to you, no matter whether you do all the work yourself or hire a team of professionals.
There's this one final suggestion which can't be stressed enough – upgrade your application constantly.
By paying enough attention to user feedback and exploring new business opportunities, you'll know how to best enhance your online app.
Besides this, if you ever need some technical advice on the same or wish to hire a team of experts to build your application, you can always connect with us.