Every year the app development economy is increasing at a rapid speed whether it is iOS or Android. Talking about the first quarter of 2019 itself, around 2.47 million apps are available on Google Play, making it the biggest app store. While the Apple App store is on the second-highest position with 1.8 million apps available for Apple users. 
These stats are a direct sign of how quickly the apps are being developed, launched, and ready for usage. However, the most important thing that businesses need to be concerned about along with the quick app development is how to develop apps that become successful in the long run. 
For that to happen, you need to do a lot of market research and come up with an idea that is not only unique from others but also has the ability to provide an amazing experience to the users. 
Once you have a cool app idea and have figured out the features, functionalities, UI, you are going to integrate, the major concern that you need to look up to is the cost of developing your app.  
Is it under your set budget or do you need to exceed a bit?
Although there is no set bar on which the cost of app development relies, I have mentioned the cost of some basic factors that are a must for mobile app development and cannot be ignored. 
So, let's find out what are they.
Factors Determining the App Development Cost
1. Vendor
The cost of app development highly depends on the type of vendor you're choosing:  
Freelancers
[table id=7 /]
App Development Company
[table id=9 /]
Now the cost of development can be calculated based on two major factors:
a. The number of hours a company or a freelancer invested in your project.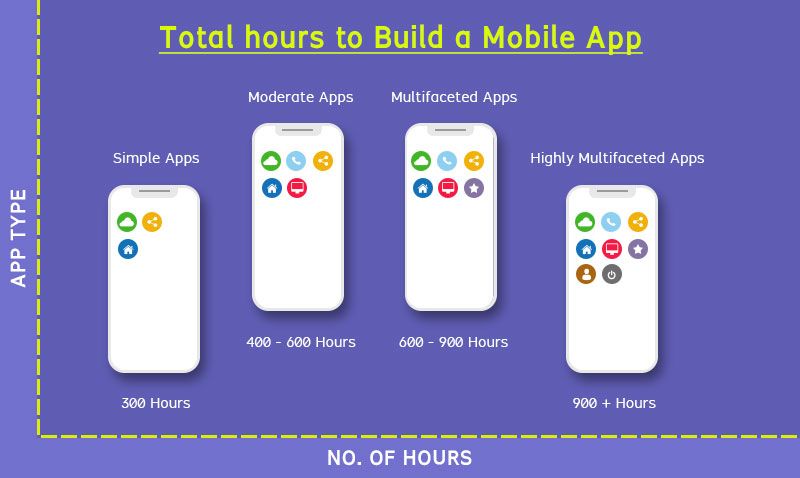 b. The App development firm you're choosing: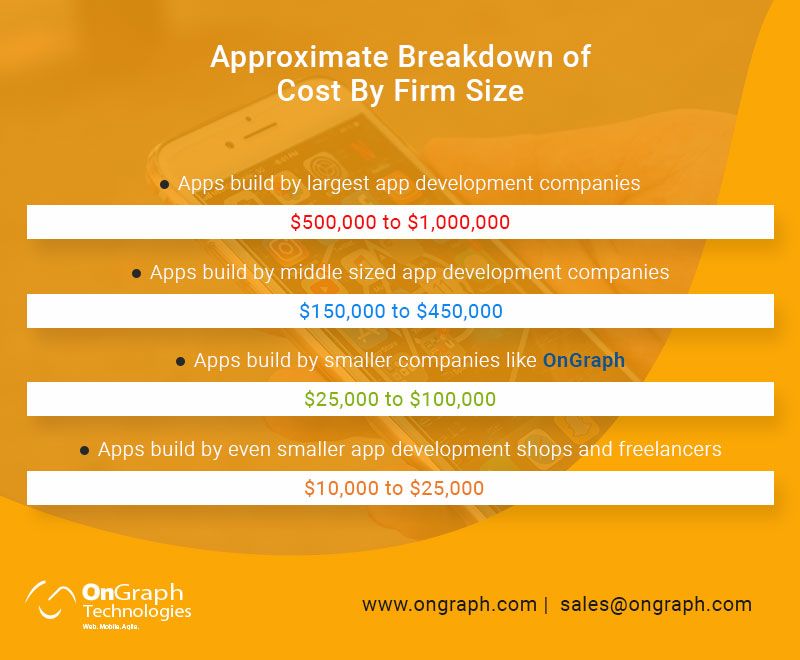 2. The Purpose of your App
The cost of app development directly depends on the complexity of the issues your app is going to resolve. Vendors would charge more for the development of the app with a complex solution owing to the technological dependencies.
(We've covered this topic in detail in another Blog: Should I Hire A Developer Or Learn To Code for Mobile App Development )
3. App Development Stages
4. Type of App Platform You Choose
The cost of app development does not vary whether you build an Android app or iOS. You won't even find a difference in the development cost for various devices. In fact, it makes a difference when you move from one platform to another, compare a native app with a cross-platform app, or a web app with a mobile app.  
(Read more about it – Framework for Apps)
5. The Design Complexity
The design and visualization of an app make it even more expensive. Any app that is built without any animations or graphics would be a lot cheaper than the application built using AR/VR technology as the greater technological efforts are required. Therefore, the app development cost breakdown highly depends on the design complexity you choose. 
Here we've covered the difference between Designing for Webs App vs Mobile App
6. Features and Functionalities 
What makes your app?
Of course, the features that you integrate. Some apps are dependent on the device inbuilt features such as motion sensors and GPS while others do not require such features and work independently. Therefore, the breakdown of the cost of your application is done based on how dependent your app is. Greater is the dependency, higher will be the cost. 
7. Technological Aspects
Technically scaling your app means that you would like to make use of innovative technologies such as AI, RPA, Machine Learning, Blockchain, and so on. Such technologies not only have the capability to take your app to the next level but also enhances the way your business works.
Therefore, technology is the number one factor that determines the cost of your app. The more technical your app is, the costlier it would be.
8.  Third-party Integrations
Third-party integrations help you to develop your application in a customized way and at the same time, you can add as many features you want to improve your business processes. As these third-party APIs let you do the work at your own pace, they add up to the project cost you might have set.
9. App Data Storage
App data storage is again an important factor to consider while determining the breakdown of your app development cost. In case your app data is stored in the cloud, the cost will be a lot lower as the businesses are charged on the basis of storage capacity. Moreover, there is no additional cost that you have to pay for its maintenance. 
Data-on-premise storage, on the other hand, is expensive as the data is stored on local servers, computers or on other devices. And for that, businesses have to buy the server, set it up at their headquarters, and store all the crucial data. 
10. App Security and Testing
Security measures are a must in today's growing amount of hacks and security breaches. This is why you need to make your application in a way that it is a hundred percent hack-proof. And so you shouldn't be worried about the cost in this section.
Once you have secured your app, the next thing is to test your app whether or not all the features and functions are working in the way they are supposed to work. Talking about the cost of testing, automated testing is cheaper than the manual one. However, to make sure you get impeccable results it becomes important that you combine both the methods. 
Read To Ensure Project Quality
11. App Deployment and Maintenance
Firstly you need to decide on which platform you want to launch your app. The yearly fee of the Apple App store is $99 while the Google store charges $25 as its one-time fee. Not only this, you might have to pay taxes if your app carries an in-app mode of payment for both Android as well as iOS.
Talking about the future maintenance fee of your app, you can choose a plan based on yearly, quarterly or on a monthly basis as per your budget and requirements. 
 [table id=10 /]
Let's Get Started!
Now that you know every single detail and app development cost breakdown, you can set a budget as per your app requirements and easily make an informed decision. 
I hope this blog helped you to understand the app development cost breakdown! If yes, then do not forget to share your app success story with us!